Students deck the halls with self-run clothing businesses
Hoodies, t-shirts and custom designs are just a few of the items students are creating and selling through their self-started clothing lines and businesses.
Senior Martyn Halaschuck had the idea to start his clothing line, Krooze, in December 2020, and officially created the website and brand on Oct. 14, 2021. Krooze sells shirts and hoodies with a custom logo printed onto them. Halaschuck plans to expand the range of his products in the future to skateboards and skateboard grip tape.
"Our brand revolves around skate culture, creating a bond and bringing positive emotions to our customers," Halaschuck said.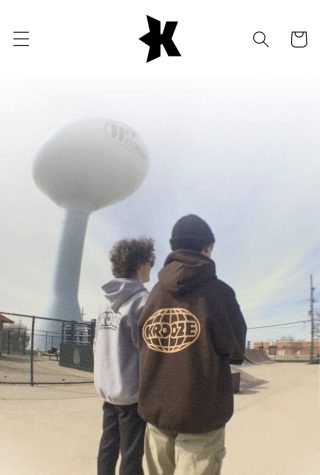 Most small businesses create all of their products by hand, and Krooze is no exception. In addition to being high school students, Halaschuck and other students who are a part of Krooze create and ship all of the products that they sell.
"We mainly use processes like screen printing and embroidery to put designs on our garments, and we are doing everything by ourselves," Halaschuk said.
Halaschuck hopes to grow his business and eventually utilize larger spaces to manage and distribute his product.
"Having a storefront is definitely something we are looking forward to and are working towards," Halaschuck said.
Fashion Merchandising teacher Jennifer Jordan gave some advice for any student looking to start their own business, and resources to utilise at school.
"
I think too many people are afraid to take the risk or the amount of work that it would take to create a business. Here at South, we have so many classes like Intro to Business, ACCElerator, and many other courses that can teach you what you need to know to start a business. They can also help you to scale your business from an idea to an actual company,"
— Jennifer Jordan
Another student who earns their income from a clothing business is senior Areana Mccolloch. Mccolloch runs her business, Elite Designs, from her Instagram account, and does custom designs onto all types of clothing as well as phone cases and cups. Mccolloch has been running Elite Designs for about three years.
"I do family shirts for vacations, I do sweatshirts, like if you want a logo I can put it on there… really everything and anything," Mccolloch said.
Mccolloch also described the time-consuming aspect of running a business, and trying to manage her time.
"It's very time-consuming, it's not as easy as it looks. A shirt, even just a simple design, takes me about three hours," Mccolloch said.
While Mccolloch's future plans for Elite Designs aren't as ambitious as Halaschuck's, she hopes to continue to use her business as a creative outlet.
"I really use it as a way to get my mind off of everything, but I hope to keep it around as I get older and maybe increase my following," Mccolloch said.
Leave a Comment