Palmer doubles down on sports with soccer and football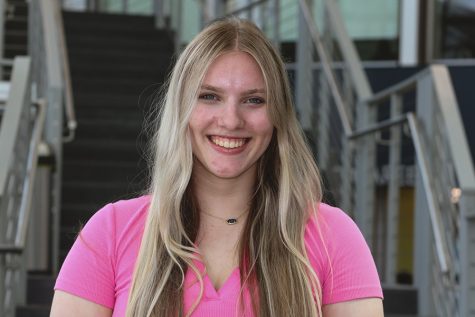 More stories from Ava Lafin
Senior Jaden Palmer runs down the field in the blue soccer uniform to kick a soccer ball into the goal on a weeknight. On the same field and under the same lights, he suits up in football pads to kick a football through the goalpost on a Friday night.
Palmer is playing two fall sports, football and soccer, as a result of a new West Suburban Conference rule that allows athletes to participate in two sports in the same season, which took effect in the 2022-23 school year. He has been playing soccer for all four years at DGS and now is a kicker on the varsity football team.
Palmer is putting in twice the work for his two sports. Both teams practice every weekday, and Palmer manages his time by going to both when he can, as well as practicing for hours on Sundays.
Jaden, described as dedicated and the perfect person to rise to this occasion by coaches, spoke about the decision to play both sports.
"Since it's my senior year and I never played football before, I decided to just try it and see what it was like. I also thought my dad, uncles and brother would like to see me in the pads," Palmer said.
Soccer coach Jonathan Stapleton spoke about why he mentioned Palmer to the football staff when they asked who could take on being a kicker.
"It's very evident how strong his leg is. I knew that would work well as a potential for the football team, but also his demeanor, his attitude. I think he's someone who's willing to take on something new and be able to take it in stride for sure," Stapleton said.
Palmer is only able to spend about 45 minutes a week practicing football due to the dual practice, but in his free time, he spends hours a week practicing on his own.
Head football coach Mark Molinari was excited to welcome Palmer to the team.
"Anytime you have a player that can come in and help, they better be good. If the team sees that you can help win and get over the hump, you're automatically embraced," Molinari said.
Palmer has been described by Stapleton as a "level-headed guy," which is needed when kicking for football. The kicker has a specific job and may put a lot of pressure on themselves during a game.
Palmer describes what keeps him calm in a tough situation.
"The coaches emphasize that I can kick well, so sometimes the pressure gets to me. I just got to take a deep breath, then I'm good to go," Palmer said.
Leave a Comment