Senior class wins first powderpuff game in three years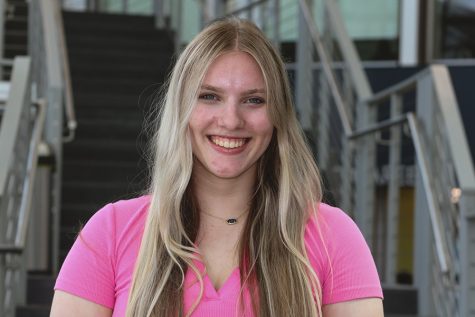 More stories from Ava Lafin
The senior class of 2023 won in the powderpuff football game against the junior class of 2024 on Wednesday Sept. 14. The final score was 24-6 after two 12 minute halves. This was the first powderpuff game since the 2019-20 school year.
The junior vs senior game started with an interception by the juniors that was shortly answered by senior Emily Petring with another interception. With 5 minutes left in the first half, the scoreboard was empty; the defense pushed hard against either team.
The field was shorter than a regular football game, only 80 yards to each endzone, and the endzone area was also shorter than the usual 10 yards. The senior coaches looked hopeful when their quarterback threw a complete pass outside the designated endzone, but because of the shorter end zone, the call was later revoked.
The seniors came back with a touchdown by Petring a minute after the incomplete call.
"When I scored that touchdown, I felt amazing. The senior class feels like my family," Petring said.
After another touchdown for the seniors the score was 12-0 at the half.
Shortly after the second half started, Petring scored another touchdown. The juniors then responded with their first touchdown of the game. The score was 18-6 within the first minutes after halftime.
The seniors scored the final touchdown with 3 minutes left. After the clock ran out, the student section stormed the field to congratulate the class of 2023.
"The game was awesome. It was great to see how many people turned out. The energy was electric," senior Ben Orozco said.
Senior Tommy Coyne, a student coach for the class of 2023 commented on the girls' work ethic.
"The girls came out with intensity. They were ready to play and wanted to win. We had the game plan from the start," Coyne said.
Both grades celebrated after the game and the winning senior team was awarded medals.
Junior coach RJ Samuels spoke on what's next for the class of 2024.
"We tried very hard, but got a little too much pressure on the offense for us to handle. Next year we're going to come back strong and we're gonna win this," Samuels said.
Leave a Comment