Young adult author Adi Alsaid visits DGS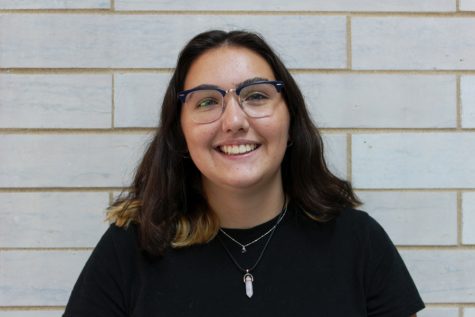 More stories from Anika Brown
DGS welcomed young adult author Adi Alsaid on Wednesday, March 16 as a guest speaker for certain English classes. The school librarians and students had the opportunity to meet Alsaid and attend an hour-long presentation in their second or fourth period English class.
The young author has written an abundance of novels, including the popular young adult book, "Let's Get Lost" and "Never Always Sometimes." Originally from Mexico City, Alsaid recently moved to the Chicagoland area and is back to visiting schools. Before COVID-19, Alsaid had visited a variety of schools in Mexico and the United States.
Now back as a guest speaker for the first time in two years, students of DGS had the opportunity to hear his story and ask questions of their own. DGS librarian Inmaculada Galan was excited to have authors back in the building.
"In the past we have had authors come and visit… they come to talk about their writing process, what led them to be an author, where they get their inspiration, how they came about.
"We've been so lucky… we want to represent all of our students, so I started looking at different LatinX authors and reaching out, and some declined but Adi happens to be living in Chicago, so he's local," Galan said.
Meeting with the author, Alsaid was excited to be back as a speaker. He described the overall message he wanted to share to students.
"I got to share how I came to be, standing in front of people today as a writer… I ran through all of the different paths my life could have taken and how they all eventually led to writing," Alsaid said.
Alsaid is a popular author among young adult readers, best known for his appreciation and understanding of teenagers through teen characters.
"I write for teens and so part of what I'm doing when I'm writing is trying to reach out to young people and get a message across, or just make them feel heard. School visits are just an extension of what I do in my books.
"The main point of the talk was to show that you don't have to know everything and you don't have to choose, because life is going to give a lot of different paths," Alsaid said.
Alsaid is excited to get back to speaking to students and promoting his newest books.
"Usually around when my books come out, I'll be doing more school visits, so I'll hopefully be doing more visits then… and now that I live in Chicago, these things are available and I hope I'll get to do them more often," Alsaid said.
Watch out for Adi Alsaid's newest book, "Before Takeoff," coming out on June 7, 2022.
Leave a Comment