DuPage Stars hockey team unites multiple schools for unique sports experience
More stories from Teagan Smith
The rink is overflowed with cheering high schoolers from all over the county as the DuPage Stars hockey team enters the ice and prepares for the starting face off.
The DuPage Stars are made up of players from five high schools in the DuPage area: Downers Grove South, Downers Grove North, Hinsdale South, Lisle and Westmont. There are three teams: junior varsity two, junior varsity one and varsity that are made up of students from all four grade levels at all five schools. Head varsity coach Chaz Davis explains how the team functions in association with their schools.
"The DuPage Stars are considered a 'combined' high school hockey program. We are considered a 'club' at each of the five schools we represent, because like most other high schools, as well as within the IHSA, ice hockey is not recognized as a sanctioned sport at the schools we represent," Davis said.
The amount of schools on one team separates this sport from other DGS sports and activities. DGN senior and player Jack Peterson shares about his experience with the Stars the past two years.
"While other teams are limited to kids at their school, we have multiple schools contributing to our team, leading to more kids trying out and a bigger selection of talent to choose from. Some cons of having multiple schools contribute to one team are slim to none. One that I can mention is schedules and time kids have extra curricular activities that's run at different times than other schools, leading to some people not being able to make a practice or a game," Peterson said.
The team sees more positives than negatives of having more schools on one team. DGS junior and varsity player Richie Pecenka shares the impacts of having multiple schools on one team.
"There's a lot of diversity on your team so you meet new people and make new friends. Some cons [of having different schools on the same team] are that you don't see these people everyday, so it's hard to get close with them unless you hang out with them or are friends with them outside of school," Pecenka said.
The team is made up of players from many schools, but they are all in the DuPage county. Nathan Gustafson, DGS junior, believes the close proximity of the schools involved is important for team chemistry.
"I think it's good that the schools are all around the same area because most of us hang out outside of school and see each other at hockey," Gustafson said.
Since the Dupage Stars are considered a club team, they are not a school-funded sport. They hold practices at outside facilities that are accessible for all schools involved.
"The DuPage Stars don't have practice at school nor do we have practice right after school like other school sports, our practices usually run us from eight to 11 at night," Peterson said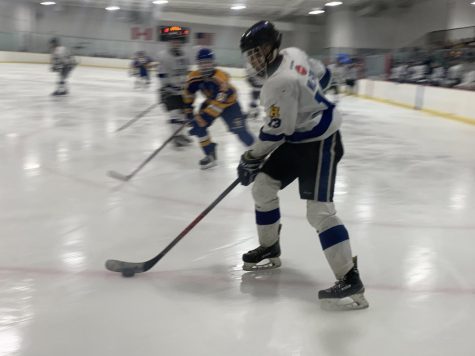 DGN senior and varsity captain Ty Casper explains how the train practices and trains during their multiple season sport.
"We do our regular practices at Darien Sportsplex and have lifting and workouts at MFC Sports Performance," Casper said.
Although the team practices at the Darien Sportsplex, their technical home ice rink is the Downers Grove Ice Rink. Also known as the "Barn," the ice rink is a small facility with only one rink and limited space in the stands for fans to sit. The team was only recently unbanned from playing at this rink because of a past incident.
"We don't get to play there a whole lot because there was a ban there a few years ago… there was a big senior night and state play off game that got really rowdy. Some kids were abusing the facility so we got banned for a few years. Last year we were able to use it again, we have one or two big games there now," Gustafson said.
With the new ability to use the "Barn" again, school spirit and support for the Dupage Stars has increased. Many students from all over the Dupage area come to watch and cheer for the team, especially on home "Barn" games.
"'Pack the Barn' is a really big thing around the Downers Grove area," Pecenka said.
The team uses the phrase "Pack the Barn" to draw a crowd to watch their home games. The stands are easily overfilled and students have to stand around the rink to get a view of the game. The support from all the combined schools motivates the players as the different schools all work as one.