'High School Musical: The Musical: The Series' takes Disney to the next level
Hang on for a minute...we're trying to find some more stories you might like.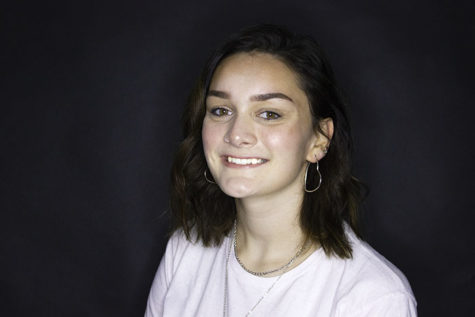 More stories from Isabella Johnsen
The Wildcats are back and better than ever with the new Disney+ Original series "High School Musical: The Musical: The Series," which follows the drama-filled lives of teens going to the infamous East High. This show takes an unexpected approach to the continuation of the wildcat legacy and instead of following the previous "High School Musical" movies it focuses more on making "High School Musical" a musical.
The show follows the storyline of two main characters Ricky Bowen  (Joshua Bassett) and Nini Salazar-Roberts (Olivia Rodrego), who are trying to tackle love in high school while also balancing the pressures of typical high school life. This show is a big step for Disney because they not only had the entire cast be real highschool students, but the script relates more to actual highschool life than any other Disney show. HSMTMTS is rapidly gaining hype and praise from not only young millennial viewers, but from people who loved "High School Musical" from the start.
Before watching this show I was skeptical, to say the least, because there had been rumors of a "High School Musical 4" for about five years now. I thought absolutely nothing could top the storyline of the original Troy and Gabriella and I believed that if Disney were to try and do a modern remake they would mess it up, as usual. Contrary to my beliefs, I instantly fell in love with the story HSMTMTS had to offer and it was brilliantly casted and portrayed.
Not only was the storyline and cast to die for, but the music from the show had instantly become popular on several social media platforms. "All I Want" by Olivia Rodrego is a song she wrote herself for the show and gained an immense amount of plays after being featured as a popular sound on Tik Tok. "Just for a Moment" performed by Joshua Bassett and Olivia Rodrego is another example of a song that had people begging Disney+ for more.
The show has been rumored to be a corny, cliche and a "High School Musical" rip off, but in reality, it's closer to actual high school life than the movie it's based off of. Also the show and the movie have no real storyline connections, except for the drama teacher who in the show is said to be from the original cast. Besides the several cameos from original High School Musical cast members, this show has really made a name for itself by being separate from the movie, but still just as good.
If you haven't taken the time yet to explore what Disney+ has to offer I suggest you borrow your friends log in and check out HSMTMTS. Don't expect to see two people meet at a ski lodge during new years, but instead see real teenagers find themselves and discover their voice. And who knows, maybe watching this show could be the start of something new?