Genin shoots the shot straight with her soccer career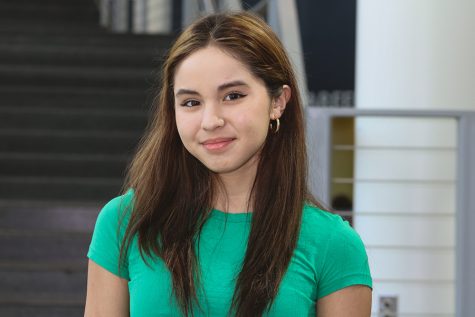 More stories from Isabella Shin
Georgia Genin is a senior at DGS and is currently committed to Iowa state class of 2027. Being an athlete has always been a big part of Genin's life, specifically playing the sport of soccer. She enjoys the team and community building aspect of the sport as well as the chance to bring out the more competitive side of her.
Q: When did you start playing soccer?
A: I started playing soccer when I was 5 years old with the Downers Grove Park District.
Q: What are your plans for soccer in the future? Do you plan on continuing in college?
A: In the future I am going to play for Iowa State's Women's club soccer team. College Club teams are funded by the college but allow for students to play their sport at a competitive level without needing to be signed to Iowa State's official sports programs.
Q: What is one of the most important lessons you've learned through playing soccer?
A: One lesson I learned from soccer is that having confidence in your team is just as important as having confidence in yourself. Many soccer players have worked very hard to feel confident in their own style of play but unless you trust your teammates to work together, then you won't be as successful. That is why in team sports such as soccer it is so important to establish trust and a relationship within the team.

Q: What is your favorite memory from playing soccer?
A: My favorite memory from playing soccer was participating in the USA cup womens soccer tournament with my club soccer team. This tournament allowed our team to play against teams from other states and countries which was a very cool experience that I had never done before.
Q: Was there ever a point where you considered quitting?
A: There have been many points in my soccer career where I have considered quitting, during my junior year I tore three ligaments in my ankle and recovery took over 5 months. During that time I seriously considered quitting soccer, as I knew I was not going to be as good as I was before my injury. Luckily I was able to start playing again and I am very glad I decided to stay with soccer.
Leave a Comment