Piotrowski leaps back into the girls gymnastics season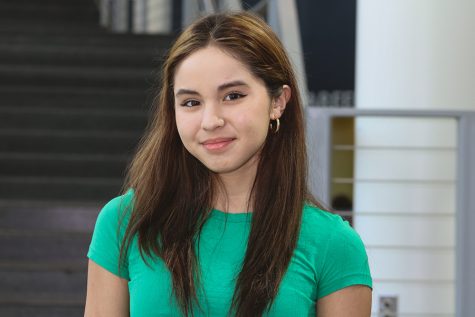 More stories from Isabella Shin
The bus echoes with the lyrics, "All I do is win, win, win, no matter what, got money on my mind/I can never get enough/And every time I step up in the building, everybody hands go up/and they stay there."
As the celebratory music plays, the bus rattles back-and-forth and transports the girl's gymnastics team back home. This is a perfect moment for the team; one that would forever be apart of each girl's memories.
Junior Maddie Piotrowski was a part of the team her freshman year, but took time off her sophomore year to recover both mentally and physically from the sport. According to CNN, there are over 100,000 gymnastics injuries each year, making it a dangerous and physically demanding sport.
"My body was really tired, and the sport started to take a toll on my mental health. I wasn't really enjoying it anymore, so I knew I needed to take time off of it. I knew I would eventually love the sport again and build back up to where I wanted to be mentally and physically," Piotrowski said.
Her freshman year on the team was everything but ordinary. It was the year of COVID-19 that forced social distance upon all the girls, mandatory mask requirements and even Zoom meets. But even given all the changes, it was still enough to make her want to come back for more.
"I really missed competing and just doing gymnastics in general. It is also my best friend, Natalie Simpson's, senior year. Most of the girls I became close to in my freshman year are now seniors, so I wanted to be back to see them and be there when they competed for their last year," Piotrowski said.
Piotrowski left a mark on the girl's gymnastics team. Senior Natalie Simpson is one of her best friends and teammate, and talks highly on the type of athlete Piotrowski is.
"Maddie is a hard worker and a positive teammate. She is hard working, never gives up and always pushes herself to do the best that she can; Maddie never settles for the minimal. She is also a positive teammate because she is always cheering for any of her other teammates and also gives good advice," Simpson said.
In addition to Piotrowski's teammates, the girls gymnastics coach Kristyn Campos only has positive things to say about the type of gymnast that she is.
"Maddie is a hardworking gymnast who seeks to improve herself each day. Maddie is very easy to coach because she is motivated to do well for herself and she understands that her achievements will have a positive impact on our team," Campos said.
The environment and friends she gained drew her into coming back. At the end of the day, gymnastics is something that will always hold importance to her.
"Gymnastics has always been more than a sport to me. I can't really remember a time in my life when I wasn't either doing gymnastics or begging my mom to sign me up for gymnastics classes. It has brought so many opportunities my way that I am very grateful for and will always be a huge part of my life," Piotrowski said.
Leave a Comment