Inside of a Barb's head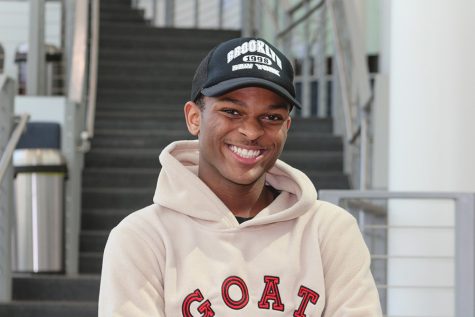 More stories from TeKavin Russell
There isn't anything wrong with wanting to die for your favorite artist, is there? O.K., that was a joke; I'm not obsessed, HAHAHA. I'm just, like, her best friend and biggest supporter.
In my eyes, we are so alike. Nicki Minaj is really the girl version of TeKavin Russell. She says the things I think about without even knowing I was thinking about them.
The relationship between Minaj and her Barbz is an unexplainable one. When someone asks me why I love Nicki Minaj so much, I can't answer the question. Why don't you?
Her legendary status has nothing to do with why I love her. The strength she has and her experience does it all for me. Or maybe it's the fact that she raised a whole generation with just a pen in her hand.
Minaj creates her own flows, writes her own lyrics and paves the way for women artists to succeed in the world of music.
Although she stands as the highest-selling female rapper with no Grammys, Nicki Minaj is still Nicki Minaj and the talent can't be denied.
I was 6 years old when Minaj's first album debuted. My eyes really weren't open to her until 2014 after hearing "Anaconda" for the first time from the "Pink Print" album.
From then to today, watching her expand into the mega superstar icon she is has shaped my feelings of being connected to her.
One of the reasons Minaj is loved so much and has a loyal fan base is that she took the time to talk, listen and build a relationship with her fans. She thanks us all the time for being there and supporting her every step of her career.
In 2011 Minaj was presented with the Billboards Rising Star Award when she gets emotional talking about her fans.
"I know that I'm so incredibly grateful and thankful for a couple of little kids, maybe a few million, I call them my Barbz and I know they're not in here today but I know they'll hear me say this… Barbz I love you so much for being by my side for such a long time," Minaj said.
Minaj is a woman who genuinely has a good heart and loves her fans. A few years ago, a Barb tweeted to Minaj jokingly telling her to pay their college tuition. When Minaj asked for proof of passing grades, the fan obeyed and their tuition was paid for shortly after.
Usually, men think supporting Minaj is a very unmanly thing to do. This is the reason she often doesn't receive all the props she deserves. I remember hearing someone guessing a person's sexuality because they liked Minaj.
It gets on my nerves because you're not gay because you think Minaj is an ill rapper.
No matter how many hiatuses Minaj goes on, Barbz are always behind her supporting her every move.
Right now is an amazing time to be Barb. Minaj is preparing to drop her 5th studio album, which might be her last as she retires from this music industry and focuses on her life away from music with her family.
Being a Minaj fan is a moment I wouldn't mind having for life.
Leave a Comment