Come for the furniture, stay for the burger: Restoration Hardware restaurant review
Amanda Despres, Business Manager and Social Media Director
November 14, 2022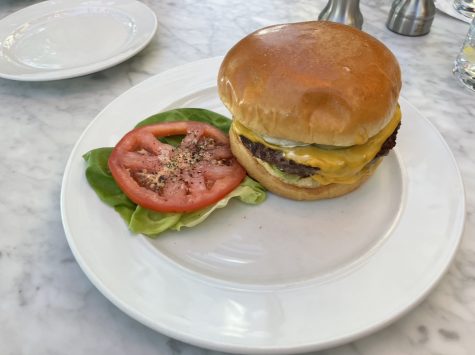 Opening their rooftop restaurant in 2021, Restoration Hardware, also known as RH, has made a reputation for themselves among Oak Brook residents as well as high school students despite their pricy menu.
When going to eat at RH, you are definitely paying for the experience. To get to the rooftop restaurant, you make your way up two flights of mirror- lined stairs and chandeliers hanging above you until you get to the restaurant. Throughout the restaurant you hear the calming sound of water cascading from the waterfall that is placed in the middle of the restaurant.
From the chandeliers and plates to the napkins, RH radiates expensive energy. With the subtle lighting during nighttime, RH is the perfect place for a birthday party, date or even a family dinner.
I ate the RH Burger, which was $22 and I added avocado on it for an extra $4. When the burger came out I was pleasantly surprised by the size of the burger.
It was a thick burger with a pickle, onion, sharp cheddar cheese and dijonnaise, topped with a very fluffy yet crispy hamburger bun that your teeth were able to glide through until it reached the insides of the burger. The meat patty was thick, but wasn't overpowering due to the pickles and onions adding sweetness to every bite. I was only able to eat half of the burger because of how filling it was.
I would say that the burger alone was not worth the price, but, due to the portion sizes, it's worth it.
Since the burger did not come with a side, I ordered a side of the truffle fries, and let me tell you, they were delicious. They had that crispness to them that you wanna taste in every fry. It definitely did have a strong, overpowering truffle taste, but dipping it in the aioli sauce made a perfect combination in one bite.
The server that we had was amazing and was always checking in at our table, but the hostess was a different situation. They normally do not do walk-ins due to their extreme popularity, so I went ahead and made a reservation ahead of time. Once we got there, we were waiting for our reservation time when a person who did not have a reservation slipped the hostess a nice tip, and got the next table.
We then got seated about 15 minutes after our reservation time that I had booked a week in advance. Overall, the service was really good and we got in and out of there in under an hour.
Overall, I had a really good experience at RH, from the delicious RH burger, to the crispy truffle fries and the ambience throughout the restaurant. I rate RH a four out of five stars.