Multi-sport athletes balance life
More stories from Kate Dziewinski
Wake up, school, sport one, sport two, sport three, homework, bed and then repeat. For multiple DGS student athletes, that's what their day typically looks like. The life of a three sport athlete is time consuming and mentally challenging, but for some, it all pays off.
DGS head football coach Mark Molinari was a three sport student athlete himself. He played baseball, basketball and football through his years of high school. He did have some struggles with keeping up with his athletics and academics, but it was all about a balance to Molinari.
"Just like any other high school kid, people that are old like me. Back when I had to be a student athlete, not much has changed. I've been in athletics and academics my whole life; it's a balance, you got to do both," Molinari said.
For junior Will Potter, his days without school are still as busy as the days he has school.
"Summers are packed, you start with football in the morning from 7 a.m. till noon. Then you go to basketball, and then you go to baseball and then back to football at night, so it's a lot," Potter said.
Potter is a special athlete at DGS. He not only plays three sports, but what makes him different is that he is a starter for all three of them at the varsity level since his sophomore year.
One of the hardest parts about being in athletics while in school is the schoolwork part of it. Potter stays on top of his schoolwork even though he doesn't want to half the time.
"I'll get home from football practice, and I'll be like yeah I don't want to do my homework tonight, so I'll just wake up in the morning or something and get it done or ask my teacher for some extra time. It's definitely doable–it's definitely doable," Potter said.
Molinari agrees with Potter, time management and reaching out for help is what three sport student athletes need to do to keep up with their school work, but it is possible.
"You know every once in a while you're going to have that one class that's going to give you a challenge, and I think all kids have that. Not every kid is good at math, science or English so just like every other high school kid they just have to get extra help. For the most part, it's the late nights and staying up and just what I call being on the grind for a little bit, getting it done," Molinari said.
The long days and the long nights of homework are rough for Senior Emily Petring, but it pays off in the end. Petring is committed to Coastal Carolina University to continue her path in women's soccer. She is also a three sport student athlete at DGS, she plays soccer, volleyball and basketball, she has been a three sport athlete for all four years at DGS.
Releasing endorphins is a huge part of why people exercise. Participating in three different sports has Petring exercising for a couple of hours a day, which helps with her mentality.
"It's my outlet for my mental health; if I struggle for a day, it's definitely somewhere I can let it all go and move on with it," Petring said.
Sophomore Gavin Powels is also a three sport athlete at DGS, he participates in baseball, football and also hockey. Playing three sports takes up a lot of his time considering his sports are all in season at one point.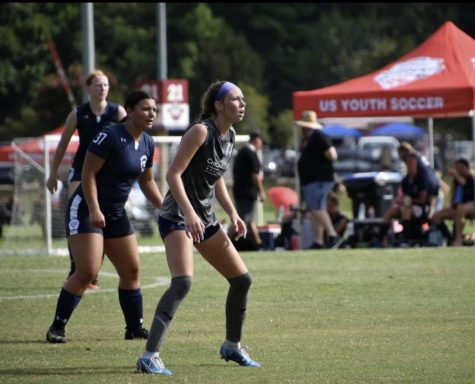 "Football we practice five days a week then a game once a week and then travel baseball we practice three times a week and hockey is twice a week and games on weekends," Powels said.
With all this time they spend practicing and the stress of coming home late and doing homework, people sometimes question why they do it. For these athletes, the reason why is because of the happiness it brings them.
"The atmosphere and definitely the connections you make with people," Potter said.
Leave a Comment