Neumann prepares to stampede out of Mustang country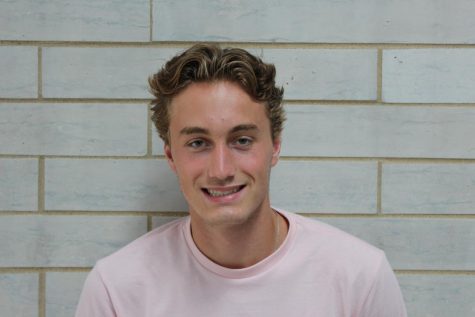 More stories from Michael Piotrowski
DGS senior Tim Neumann prepares for his final opportunity to qualify to run for his final state race in early November.
Neumann has poured countless hours into becoming one of the top runners in state. Father Paul Neumann has put his son's work on notice.
"I'm very proud of him, I mean Tim works extremely hard staying fit. He works very hard on maintaining a strict diet and the amount of work he puts into it is amazing," Paul Neumann said.
While cross country running is very much an endurance battle, Neumann feels his skill set positions him for success in many different areas on the course.
"I have a pretty good mix of speed and endurance," Neumann said.
Outside of just training, Neumann has put a ton of attention into building a healthy diet. He has done in-depth research to shape these habits and further separate himself from the competition. This self-prescribed nutritional edge aids him in taking his ability to the next level.
On top of this, being a versatile runner with a strong leadership ability is something that stands out to DGS head cross country coach Brian Caldwell.
"I've known Tim since 7th grade as someone who did our running camp… I've seen continual improvement in terms of his ability but also with work ethic and dedication to the sport," Caldwell said. "I've [also] seen him mature as a team leader, you know, for a guy who is on a good day over a minute faster than our next guy and we're a pretty good team. For him to still put team goals before his own… I've seen that growth as a leader," Caldwell said.
These tangible and intangible traits have led Neumann to hold himself and the others around him to a very high standard, elevating the program as a whole.
"For this season my main goal and really only goal is to just win state… all my preparation right now is based around performing best at the state meet," Neumann said.
While these large expectations can be mentally challenging for some athletes, Neumann has done nothing but crushed them according to Caldwell.
"Tim's always had a lot of talent but to see him go from a pretty good runner to elite he's at the point where he is unquestionably the best runner the school [has] ever had," Caldwell said.
As Neumann wraps up his high school career, continuing to run at the next level is on the forefront of his mind.
"I definitely want to continue running after high school. I'm talking to a few [Division I] college coaches right now so I don't know where I'll end up running at but I definitely know I'll be running," Neumann said.
This has been a dream for Neumann since middle school, and it's quickly becoming a reality.
Leave a Comment