Sign of the Times: Students are choosing Harry Styles over homecoming
More stories from Abigail Durkin
After a year of topping the Billboard Global 200 with songs such as "Watermelon Sugar" and receiving 52 million streams for his newest album, Harry Styles's 2021-2022 world tour, "Love on Tour" proves that Styles is able to grab the attention of Gen Z, which is the reason why his concert is taking priority over this year's homecoming.
The 2020 in-person homecoming had been cancelled at all high schools state-wide due to COVID-19, resulting in a shift in focus. This year, what was once a yearly cause for celebration no longer felt as important to some students; they had already lived without a year of homecoming and no longer felt the need to go.
During this time, Styles was releasing music videos for his songs such as "Falling", "Watermelon Sugar" and most recently "Treat People With Kindness." Students who were being shifted further and further away from school activities were now a click away from Styles. This year, those students can finally see Styles in person on his second solo world-wide tour, after it was rescheduled multiple times.
Junior Julia Frauendorff had previously only attended one homecoming dance her freshman year, and missed the DGS football game for the Love on Tour, Chicago Night 1.
"The homecoming game happens every year and I wasn't sure when the next time I would go to one of his concerts would be," Frauendorff said.
Frauendorff had bought her tickets pre-pandemic, when the dates were scheduled for homecoming week 2020. Frauendorff and her group of friends had been long time fans of Styles and the band he was a part of: One Direction.
"I had tickets to the concert for over a year, and I was looking forward to it more than anything,"Frauendorff said.
Harry Styles isn't the only exception- DGS Librarian Kate Rogers is a long-time fan of many popular 90's boybands.
"My husband got me tickets to see New Kids On The Block for my 30th birthday. I was even married before that concert, [and] I've had two children after and I would still say that's the greatest day of my life. I had all my childhood dreams come true," Rogers said.
The Backstreet Boys weren't together during her high school years, but when asked if she would skip going to homecoming for a their concert her response was similar to that of Frauendorff.
"Yes, I would have. But they didn't exist when I was in high school. But by all means I would have," Rogers said.
"Love on Tour" started on Sept. 4 and Styles will be performing across America until Nov. 20, including the two days in Chicago on Sept. 23 and Sept. 24. After a four year hiatus from his last tour, Styles's debut album "Harry Styles", when 29 of the tour venues had sold out the day of release. Leaving the tickets to be in much demand for both new and old fans.
The decision to go to Styles' concert or go to homecoming, was the crucial choice high school students had to make.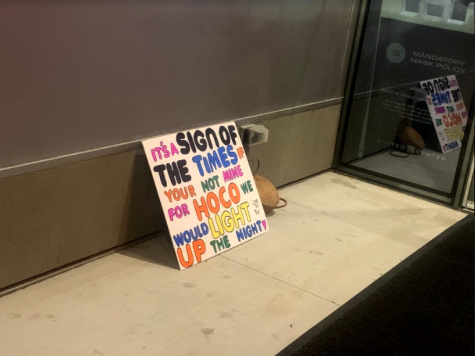 Leave a Comment