District 99 discusses the future of hybrid as in-person learning resumes
More stories from Annie Le
Despite DuPage County coronavirus transmission levels moving into substantial, plans for in-person learning remain in place as the DuPage County Health Department (DCHD) deems the District 99 personal protective equipment and safety protocols safe enough for transition into the modified hybrid schedule.
A new DCHD standard states that the measures taken by the district have created a safe enough environment for a return in-person learning. This standard was further propelled by the fact that there have been no large outbreaks among the student population.
Although earlier claims suggested that there would be serious conversations about moving back to remote learning and canceling activities if DuPage County transmission levels moved from moderate to substantial, superintendent Dr. Hank Thiele stated different expectations now set in place.
"[The DCHD has] clarified that it's not as cut and dry—a hard line as they originally made it out to be. … The health department made it very clear that if we [had] not put any mitigation strategies in place, any of these safety protocols … then absolutely, if we had moved into substantial, then we would have to move to 100% remote," Thiele said.
As a large portion of students and staff make a return back to school, each campus will continue to track cases. The possibility remains open that communications with the DCHD will lead to several different scenarios of closings. Among these scenarios are the closing of DGS only, DGN only, the sole closure of extracurriculars and a district-wide closing.
Even with the safety protocols in place, Thiele assures that if the community transmission level continues to increase, the district will return to the remote schedule in order to best maintain the health of students and staff.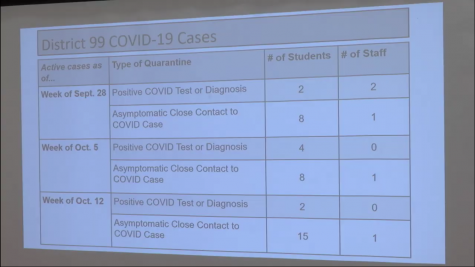 "If I see [the new cases per 100,000 people] go [further] into the substantial category, then I'm going to have to make the decision as the school superintendent that we move fully remote because I have to be sure that we can keep people healthy and safe," Thiele said.
Concerns remain as to whether or not moving into the hybrid schedule is the safest option as other districts remain remote; however, Thiele reaffirms his close communication with the DCHD as well as their approval to return to school.
"York has gone to remote learning, a few other school districts have paused their return plans. But the District 99 community, we're all moving forward based on our conversations with the health department [and] with one another looking at what our local data says," Thiele said.
Despite the continuing concern, with the close monitoring of the circumstances, a return to school climate survey from Sept. 30 administered by the school board observed the common theme among 1,166 student responses that an in-person school setting was widely preferred, as stated by associate superintendent Gina Ziccardi.
"Overwhelmingly, the comments that I read through, many of them … were that most students would prefer to be in-person," Ziccardi said.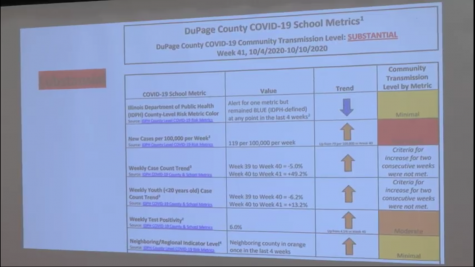 A similar viewpoint was shared by the staff, with Thiele stating that the amount of staff members returning to school was widely consistent with the teacher attendance levels from before the outbreak, barring the teachers with health concerns who will be receiving accommodations.
Along with the approximate 70% of students returning to school, Thiele discussed the return rate of teachers.
"We have some staff, about 10% or so that are out because of health accommodations that have a [teacher's assistant] in their classroom that are helping them while they work [remotely], but outside of that, it's nothing more than the usual of what you would see for staff attendance," Thiele said.
Associate superintendent Scott Wuggazer made it clear that the school board will continue to monitor the welfare of students as he spoke about some of the survey questions.
"Some of the questions that relate to [needs, engagement and relationships] for the students were talking about how [they were] using the remote learning tools such as zoom [and] zoom breakout [and] their connections with their teachers and their peers," Wuggazer said
Assuming that circumstances allow it, the hybrid learning schedule will run three of its three-week cycles through to the end of the semester concurrently with fully-remote learning for students that have opted out. Students following the hybrid model may opt out at any time.
Leave a Comment