Dumford strikes spot on division I college team; Dedication makes her highly respected DGS player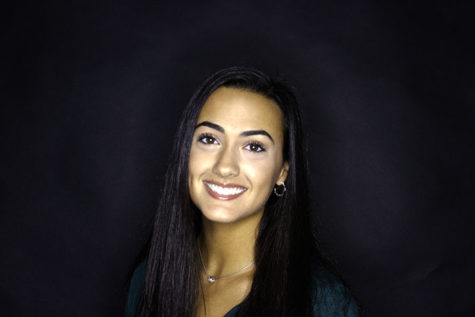 More stories from Alyssa Deplaris
The soccer ball soars toward the net as goalkeeper Rose Dumford dives to make the save. Her rapid reflexes and years of skill let her legs spring towards the ball, swiftly making the save and showing the spectators why she deserves to play at the Division I level. After a long commitment process, she committed to Western Michigan University in December 2019.
DGS senior Rose Dumford has dedicated her time to soccer ever since she began playing when she was five years old. Dumford began communicating with college recruiters in her freshman year of high school.
Dumford was involved in the soccer program at DGS until her sophomore year. Currently, she has signed to play as a goalkeeper for the club Sockers FC Chicago, which is run through US Soccer. Dumford explains her diligence to the club team through practice duration and travel.
"I practice five to six days a week, which includes team and goalie training. We only have one other team in our conference that is in Illinois. I travel with my team on the weekends to Michigan, Ohio, Minnesota and Indiana," Dumford said.
Junior Olivia Meyer has played soccer with Dumford since she was in sixth grade. She recognizes Dumford's crucial role of being the goalkeeper. Meyer notes the mental growth she has made from when they first started playing together.
"I think she gained a lot more confidence as she got older. She started to understand her role as a goalkeeper and grew up learning how to communicate with her teammates. She has a really good understanding of everything going on and takes time to understand each player so she can better the team and give them feedback," Meyer said.
Sophomore year Dumford was moved up to play on the varsity team. Dumford was recognized by teammates and staff members for playing on the varsity level as a sophomore. Varsity girls soccer coach Chris Hernandez highlights Dumford's achievements.
"For her to come in as a sophomore and play as well as she did, was outstanding. She was one the girls looked up to because of her ability. The coaching staff looked up to her because she was always looking for input to improve herself," Hernandez said.
Dumford is a multi-sport athlete and was involved with the volleyball program throughout high school. She reveals that although there is a contrast between volleyball and soccer, volleyball has helped her succeed in her soccer career.
"Even though they are very different in the sense of conditioning, volleyball has helped increase my athleticism and vertical reaction time, which are both useful for goalkeeping," Dumford said.
Hernandez believes Dumford's strong mentality has had a major contribution to her success. He discloses that she was capable of looking at past errors in order to produce remarkable moments on the field.
"She had the mental capacity to push herself beyond her mistakes in order to succeed at the next opportunity. Her athleticism mixed with her intelligence put her in a position to make some outstanding saves and organize the team, " Hernandez said.
Dumford has learned that she can not dwell on her mistakes during a game because it will hamper her progress. She recognizes that in order to succeed, a strong mentality is pivotal. Dumford reveals her perspective on maintaining a strong mental state.
"I just remember that if I make a mistake in a game, it's just one moment out of my entire career. I have to get past it and clear my head in order to play well the rest of the game," Dumford said.
Meyer reflects on how Dumford interacts with her teammates on the field. She predicts that Dumford will continue to succeed in her soccer career based on her positive mindset and intelligence.
"As a teammate, she is very calm when things aren't going well and will think logically about the game. I think that she is going to be a leader at Western Michigan. Even when coming in as a freshman, I think she is going to get early minutes," Meyer said.