Kanye West's 'JESUS IS KING' is 'Everything We Need' in 2019 rap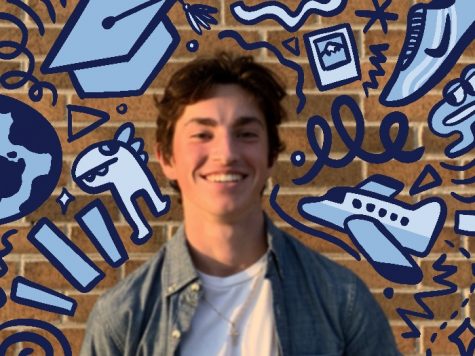 More stories from Luc Alvarez
On Oct. 15, after countless delays and over a month after its original release date, Kanye West released his ninth studio album, "JESUS IS KING," and while I'll still blast the tracks in my car on the way to school, this album connected with me on a spiritual level unlike any other album of 2019.
Differing from both West's typical work and contemporary rap of 2019, "JESUS IS KING" is entirely clean and centers on themes more common in gospel music than hip hop. This shift from explicit-laced rap lyrics to soulful gospel music is worth the wait for Kanye fans as he continues to be unabashedly unique from the rest of contemporary rap.
Religion is not something new to West however, dating back to his 2004 Grammy-winner "Jesus Walks," West has proudly made religion a central focus of his music. Rather than an exodus from rap music, "JESUS IS KING" should be seen as an evolution of West as an artist.
Some aspects of West's established style remain constant in West's latest album however including his use of a gospel choir as originally featured on West's 2016 track "Ultralight Beam." On "JESUS IS KING," West forms his own gospel group dubbed the Sunday Service Choir which abruptly begins the album with "Every Hour," a soulful and multi-layered track that sets the tone for the rest of the album as one that refuses to be defined by what a rap album "should be." 
West's bombastic percussion also returns in "JESUS IS KING" with its first appearance being heard on "Selah." One such percussive hit highlights the lines, "Ye should be made free/John 8:36/To whom the son set free is free indeed/He saved a wretch like me" with the powerful sound symbolizing the power of God and salvation, two themes central to "JESUS IS KING."
Even on "Follow God," the album's most traditional hip-hop track, meaningful lyrics shine over the straight-forward, 808-backed beat. This can be seen as West reflects on previous mistakes and his new self when he raps, "Drivin' with my dad, and he told me, 'It ain't Christ-like' (Stretch my hands to you)/I'm just tryna find, l've been lookin' for a new way/I'm just really tryin' not to really do the fool way."
"JESUS IS KING" is not without flaws though as it falls victim to one thing in particular– streaming. The album follows the trend of shortening songs in order to maximize streams, and revenue, in a similar fashion to recent trap albums like Lil Tecca's "We Love You Tecca" and DaBaby's "KIRK." While this may be smart from a business perspective, it leaves songs feeling underdeveloped and the album as a whole lacking in-depth when compared to West's previous albums like "My Beautiful Dark Twisted Fantasy" and "The Life Of Pablo" which both had a total playtime double that of "JESUS IS KING."
Another area of criticism for "JESUS IS KING" is its lack of a solid identity as an album. While songs like "Use This Gospel" shine through their complex and sincere lyrics, "Closed On Sunday" proves to be the low point of the album with the cringeworthy lyrics "Closed on Sunday, you're my Chick-Fil-A" giving any Kanye West fan flashbacks to the regrettable collab on Lil Pump's "I Love It." This lack of cohesion around the tone of the album is further highlighted by the abrupt transitions between tracks giving "JESUS IS KING" a rough-around-the-edges feel.
Altogether, however, the combination of a soulful choir and a diverse and complex library of percussion creates a unique sound that separates "JESUS IS KING" from the homogenous sound of 2019 chart-topping rap. These aspects combined with meaningful lyrics centering on West's faith and a collection of features including saxophonist Kenny G on "Use This Gospel" and rapper Ty Dolla $ign on "Everything We Need," solidify "JESUS IS KING" as yet another work of art from the mind of Kanye West.