The battle of a concussion and the playoffs
More stories from Ashley Boak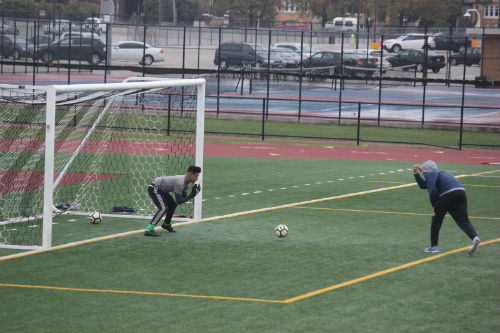 On Sept. 15, 2018, varsity goalkeeper Christopher Gory was hit in the left temple during practice, resulting in a severe concussion. Gory was faced with multiple weeks of recovery, with the hope to return to full-strength before the playoffs begin.
"I got hit in the left temple with a soccer ball by [senior midfielder] Jack Daly.  It took me six minutes to walk from the goal to the bench," Gory said.
Gory's friend, junior defender Ethan Kelly, was a big help to Gory when the concussion occurred. Kelly helped Gory get up and reminded him that he was at soccer practice. Kelly opens up about the experience he had with Gory.
"Well, I was playing defense back there with him so saw the play which was actually supposed to be over, but someone [still] shot the ball right after.  I saw it hit Christopher in the side of the head and thought it was just going to be a little thing, but when I saw him go down and stay down, I knew that something was wrong," Kelly said.
While Gory showed multiple signs of a concussion, including not being able to remember either his mother or father's names, he began to struggle with basic everyday things such as remembering his teachers' names to information that he learned in classes. While those tasks were difficult, Gory described that not playing was worse.
"The lack of playing felt terrible and I hate not playing since I am a very competitive person," Gory said.
While Gory was out from his injury for over a week, the team competed in three games and still had multiple practices. Since there was a change in goalkeepers, the team had some adjusting to do. Varsity soccer coach Jonathan Stapleton shares how Gory's injury affected the team atmosphere.
"I think with a change of goalkeepers, there's a consistency that kind of goes with your goalkeeper and your backline that gets distributed a little bit, but I don't think it has been a dramatic effect in any way shape or form," Stapleton said.
Goalkeepers are forced to throw their bodies in multiple different directions and even take direct hits by the ball to try their best to save it. Since interactions with the ball are so common as a goalkeeper, Stapleton was surprised that the final result of Gory's injury was a concussion.
"It did surprise me that the outcome was a concussion just because I know as a goalkeeper you get hit that way often, but that is the thing with concussions, sometimes you just don't know which hit is the one that sort of does it," Stapleton said.
Stapleton wasn't the only person surprised by the fact that Gory's injury resulted in a concussion. Kelly was also surprised by the final outcome.
"I mean I haven't ever seen anyone else get a concussion, but once I saw it hit Christopher's head, I knew that this was different than when anyone else has gotten hit in the head.  I feel that most goalies do get concussions due to what they have to put their bodies through but this concussion shouldn't have even happened so I was both surprised but also understanding [of the concussion]," Kelly said.
Even Gory himself was shocked that his final outcome was a concussion.
"I never imagined myself getting a concussion especially since I do take strong hits a lot. It was shocking to me also how severe my concussion was because it made me then fearful for possible internal brain issues like a brain bleed," Gory said.
Since being cleared on Sept. 24, 2018, Gory feels that he is back to full strength and power since his concussion. Gory has high hopes to be able to play during the playoffs.
During the team's first playoff game against Riverside Brookfield on Oct.16, they won the game 4-1, advancing into the regional finals. While Gory may not have played during the regional semifinal game, there is still hope for him to play as the team goes further into their playoff run.
Now that the team has advanced into the regional finals, playing Morton on Oct. 19, they are working towards their goal of advancing as far into the playoffs as they can.  Their end goal for the playoffs is the state championship game that would take place on Nov. 3.
"Obviously we want to go as far as we can and tomorrow we play Morton and I think if we win that game that would be our biggest achievement. I think it has been the past six years that we've been knocked out by Morton every year so I think we want to make it as far as we can but beating Morton would be one of our biggest achievements," Kelly said.
Unfortunately, the Mustangs lost in their game against Morton on Oct. 19. Gory did not play in the final game of the 2018 soccer season. The boys' soccer season ends with a record of 6-10-3.