Tommy Staruck: a star in the making
Hang on for a minute...we're trying to find some more stories you might like.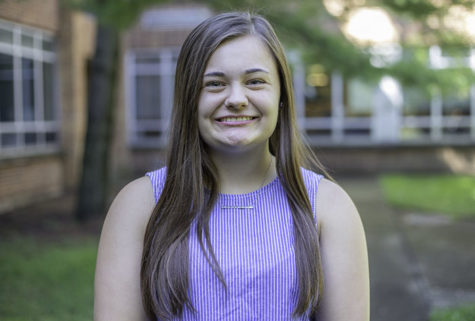 More stories from Becca Pritchett
Most sophomore boys can be found on basketball courts, football fields and baseball diamonds, but not DGS sophomore Tommy Staruck. Although Staruck used to be found at those places, he can now be found on the green of the golf course hitting balls left and right with the varsity boys golf team. This is Staruck's second season on varsity — his first being last year when Staruck was a freshman.
As a freshman Staruck made the varsity team and had a successful first season. When asked about his first impression of Staruck, varsity coach Terry Tiesman said, "My first impression was that he cares very much about his golf game and that he is a very good teammate. He gets along well with all the guys, he's supportive of his teammates and he's really looking out for the best of the team. He's obviously a very good golfer, but he goes beyond that and is a very, very good person too."
When asked what made him want to pursue golf, Staruck said, "My mom introduced me to the game and I just started watching it, and some golfers like Tiger Woods were a big influence." Staruck also chose to give up playing other sports that he enjoyed, like baseball and basketball, in order to pursue his golfing career. During his freshman season, Staruck also almost made it downstate — which in any sport is never easy. Coach Tiesman said, "It's very hard to get downstate, but he was one stroke away from being in a playoff last year of going downstate."
Each individual member brings something to a team. DGS senior Trevor Owcarz was asked about what he feels Tommy brings to the varsity golf team. "He brings a calming presence to the team and he's really mentally tough. Whenever we need him to step up on his game he's always there for us to help bring us around and support us," Owcarz said. Tommy on the other hand, feels he brings leadership and a humorous attitude to the team.
Coach Tiesman commented on Staruck's character, not as a person, but as a golfer. "As a player he is very calm. You don't see him having real highs and lows during a round. You could watch him for a moment and you really wouldn't know if he's having a great round or a not-so-great round because he's very even keel," Tiesman said.
In order to stay dedicated to his game, Staruck played in many tournaments over the summer. He tied for fifth place in the Summer Jr. Elite Event #2 that took place June 20 and 21 at the Glenview Park Golf Club. Coach Tiesman talks about his year-round dedication to golf. "He works very hard at his game. He works year-round on golf and you'd like to see him get those rewards," Tiesman said.  
Staruck and his team would like him to have the opportunity to go downstate and represent DGS this year. "I hope to make it down to state. I missed out by one shot last year so I'm hoping to improve on that," Staruck said.
Although the golf season may soon be ending, Tommy Staruck's golfing career is only beginning. Staruck has two more years and golf seasons ahead of him to bring his humorous attitude and calm presence out onto the green.