The confidence conundrum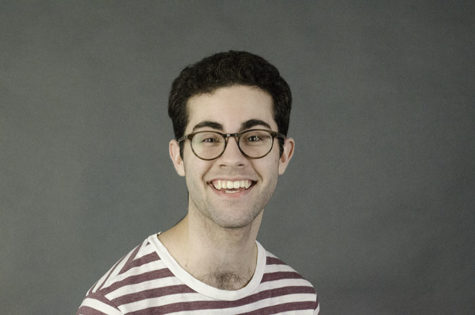 More stories from Jonah Ocuto
4:30 a.m.–an alarm clock rings, waking someone who will spend the next 14 hours competing, speaking and performing for complete strangers. Donning a suit and harboring a craving for victory, the life of a speech team member is intimidating.
In high school, conflict seems inevitable. Your senior year you have colleges poised to pounce, grades to top off, but for Masque & Gavel President Hayley DeSilva, she has something else on her shoulders: winning a state championship.
"I think that every person who goes on to take first in state has something in them that allows them to do that. There's this quality about you, this special part of you — because you have a talent," DeSilva said.
DeSilva is not new to the state environment at all; her sophomore year she was thrown into the state team the morning of regionals, eventually making it to the state competition, but not placing. Yet that wasn't enough, so her junior year she focused her efforts and ended up taking fourth in state in her event, Special Occasion Speaking.
"[Going into the season] I remember talking to one of my good friends who graduated last year, and asking 'how do you deal with it after placing your junior year going into your senior year?' because if you don't do as well, you feel like whatever you did before isn't going to matter unless you top it this year," DeSilva said.
That's a good mount of stress to put on a single individual, especially when that person has dedicated a large component of their life to this type of competition. However DeSilva isn't as confident as one would expect — in fact, she believes she's quite the opposite.
"I never feel confident walking into a tournament. You get to a point where you say, 'OK, I'm obviously doing something well,' but I find it hard to see what other people like about my performances in any of my events. So you start to ask yourself, 'is it luck?' When you don't know what it is about yourself that makes you successful, you start to think 'maybe this weekend will just be a fluke.'"
Achieving true confidence isn't easy — not when individuals are constantly worrying over whether or not we deserve the confidence in the first place. In her TED Talk, "The Confidence Myth", author Jess Weiner states that "when we speak about confidence we often talk about it as something we need to get or raise or boost, when in reality we get there through self-discovery."
Self-discovery is no easy task, not when the constant pressure of outside opinions weighs heavily. This has gotten so serious that now kind gestures can even be misconstrued.
"When someone compliments me, I don't know how to respond. I'm so grateful that someone said that to me, that it makes me uncomfortable — because what do I say? Do you want my house? What do I give you? And when it comes to speech for me, putting it under the microscope in any way makes me nervous, regardless of whether or not it's a compliment or criticism," DeSilva said.
DeSilva's story is not unique — she definitely is — but her comments reflect a common trend that other people has observed in the school. English teacher and speech coach Justin Matkovich has also seen this.
"Kids in general nowadays find it harder to be confident in themselves. For whatever reason, I just think that that's a harder thing for people to do," Matkovich said.
Yet not only teachers have noticed this, senior AJ Janos reiterated the same belief.
"I think a lot of people aren't confident enough. I also think there are a lot of people who are just naturally confident in a good way, but I think that the school in general has a big problem with confidence. People find it hard to have pride in their abilities," Janos said.
Clearly, the issue of what exactly confidence is, how to garner it and how to embrace it has left a palpable mist of confusion in students today. Where exactly does it come from? Student Council President Rakiya Johnson believes that confidence does not lie in the team, but in the individual.
"While it's easy to be confident in the moment, I personally get this shroud of doubt that makes me think, 'maybe I'm being too confident.' I think the confidence on the [Speech] team is at a good level, but the issue is on the personal level," Johnson said.
So, to any desperate student, teacher or individual reading this — take time out of your day to figure out who you really are. Step away from the homework, your job and your fears for five minutes and do something you enjoy. At the same time, getting out there and even attempting something can often help get you a deeper understanding of yourself
"I think a lot of what makes somebody confident is that they just try. Hayley is someone who's verbally says how unconfident she is, but she still does it. Even though she's aware she has these 'issues' she still does it, and gets through it," Matkovich said.
Too often we worry about what others think of us, when in reality it may not be as bad as we think. DeSilva is open and unapologetic about having thoughts of if she truly deserved that state placing. However, the speech team's sentiment is much different.
"Hayley's impact is huge. She's a great leader, as a mentor and leading by example. She's somebody people can go to for help," Matkovich said.
"Hayley is a very caring person, especially for me — we're in the same event, so she's definitely helped me a lot with getting myself ready," Janos said.
"Hayley does very well, she's a very successful member of the speech team. She almost always breaks [into finals] — she's someone to be reckoned with," Johnson said.
Self-esteem is a double edged sword — if you have too much of it, you'll be shunned; too little, and one can be completely ignored. Understanding how to navigate the line of confidence is more important than anybody could emphasize. It isn't easy, but it is necessary.
Leave a Comment