Gonzales has achieved the "American Dream"
Hang on for a minute...we're trying to find some more stories you might like.
After spending most of his childhood in the Philippines, Joseph Denart Lo Gonzales moved to the United States and, more specifically, Woodridge,  to get an American education.
Gonzales's move to the United States with his family from Cabanatuan City was because they were in search of the "American Dream." "My parents and I originally came here to pursue a better life … The cliché American Dream," Gonzales said. He and his family moved to Downers Grove in April of 2011.
The move affected Gonzales's family but not in the traditional way. "We were not accustomed to the weather. We didn't bring any jackets so we were pretty freezing and the language barrier made it hard to blend in," Gonzales said.
With that being the only major setback, 11-year-old Gonzales didn't find much of a difference when moving to the United States.
Being new to the United States, Gonzales still puts as much effort into school as anything he would have done back in the Philippines. "In high school, I made it to honor roll every single semester, went above a 4.0 GPA, [while] taking AP and Honors classes," Gonzales said.
With his work ethic and desire to understand his school tasks driving him every day, Science department teacher Jennifer Wolf took notice of these hard-working characteristics. "He asks a lot of questions to better clarify his thought process and to help apply it to what everyone else is doing. He is also really good at just standing back for a minute, seeing what's going on and then making some decisions before moving forward," Wolf said.
With the support and credit being given by his friends and teachers, he still has room for his family and specifically his mother. "Joseph is a kind of son that every parent would wish to have. He is very motivated with his studies, always aims for excellence and is a very supportive brother as well," Maria Gonzales said.
Joseph also found a passion for tennis and joined the DGS tennis team while sustaining his academic excellence. "Honestly it's all about time management and cutting down on the procrastination, that's the key," Gonzales said.
Joseph's teachers haven't gone without noticing his effort towards helping his classmates and his own work environment to better their education. "He is a very conscientious student … He always gives his classmates an opportunity to voice their opinions, he always does very well on tests and quizzes and has a strong science background," Wolf said.
Joseph, on top of working his tail off and being involved with the school, finds a way to help the elderly as well. "I work at a healthcare and rehab center for senior citizens. It's called Burgess Squared. I work as a rehabilitation technician and I help transport patients and assist physical and occupational therapists," Gonzales said.
Despite Gonzales's excellence in high school in the United States, he has different plans for his post-high school education. "If I go to school in the Philippines, I don't need to take out loans and get financial aid. It's just easier and it won't be hard assimilating back into the Philippines because I am still fluent," Gonzales said.
With a decision as severe as this one, sometimes friends can help guide the way to make the decision easier. Senior Aidan Pletcher, a friend of Gonzales, talked about the benefits of his friend's decision. "He would save tens of thousands of dollars on his education and be one of the top prospect students in the Philippines for his merit and international experience. However, there are also many possible obstacles in his way in regards to being successful in the future if he decides to return to the Philippines," Pletcher said.
Although he believes that financially it would be a good idea for him to attend school in the Philippines, Joseph can't help but look forward to his return home. "Yes I get homesick once in awhile," Gonzales said.
While he seems to have the dynamics of the high school environment figured out, he still fights with some of the same issues that most teenagers face. "I don't know, my future, for the most part, is still undecided. I'm just trying to get my education and my degrees and who knows where I will go from there," Gonzales said.
Although he has spent around six years in the United States, he already has his departure set. "I plan on leaving after the senior year, a little bit after graduation," Gonzales said.
With Joseph's path leading him home to the Philippines, senior Sherwin Thomas, another friend of Joseph's, expressed how positively Joseph has impacted his life. "Joe is a very nice and hard working guy, and you can see that with the way he carries himself. He is very straightforward, and if he ends up going back to the Philippines, they're lucky," Thomas said.

About the Writer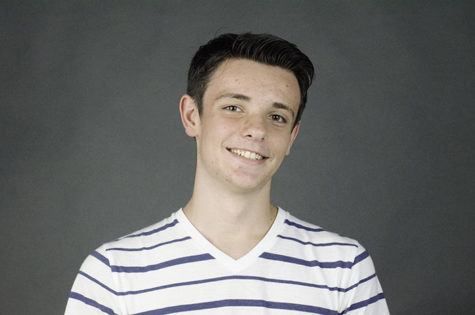 Matthew Hollendonner, Business Manager
Matthew Hollendonner is a senior at DGS and is the business manager of the 2017-2018 Blueprint. Matthew was a part of Key Club which is where he developed his drive to help others, Hollendonner spends any available time helping neighbors and family.
The last two years he has come in early to meet with teachers to reach his academic goals and to expand his knowledge. Hollendonner enjoys watching older shows like the sitcom "Friends," spending time with family and enjoys being disappointed by the Chicago Bears on Sundays.
Schools of interest include, DePaul, ISU, UW Madison and University of Whitewater Wisconsin. He is a huge NFL fan who loves to read about the most recent news that pertains to football and he enjoys reading in general. Hollendonner's  favorite player and role model is Russell Wilson, his story and uprising always reminds Hollendonner how to persevere.