South strong or south pride? Go blue or go gold? Hornets or Mustangs?
This is the internal conflict that I experience daily due to attending DGS but having parents who work at Hinsdale South High School.
I was raised a proud Hornet. Friday nights in the fall I would be on the Hinsdale South football field sideline, watching my dad coach. I tumbled in the Hinsdale South gymnastics balcony and scribbled on the whiteboards in my mother's classroom. And my closet consisted of only black and gold.
My dad is a physical education teacher for students with special needs at Hinsdale South, and my mother is a biology teacher. My dad also coaches football and bowling. They have both taught there for their entire careers.
I would spend Sunday afternoons at Hinsdale South helping my mother decorate her classroom or shooting hoops with my father. Over the summer I did as many athletic camps there as I could.
So when I started school at DGS, it was a culture shock.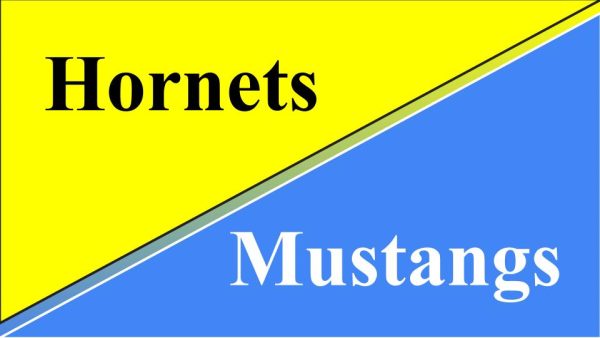 Suddenly the school that I had had an emotional tether to was the enemy–especially during football season.
Alarm bells would sound off in my head every time I came home from school to find my dad watching DGS football film, or on Friday nights when the Hinsdale South coaching staff would assemble in my garage. Being associated with the Hornets is betrayal, but being loyal to the Mustangs also makes me a traitor.
Today I still struggle with where my loyalties lie. My parents are the best people in my life, so I am inclined to believe what they do. But on the other hand, I have built a life for myself as a Mustang, and DGS has become a crucial part of my identity.
Balance has become the only way to keep both worlds alive in my life.
I wear my DGS gear to school, and Hinsdale South t-shirts on weekends. I find happiness in both school's triumphs, and am disappointed in any failures.
At the annual cannon game between DGS and Hinsdale South on a Friday night, I lose on every play, but I also win no matter what.