Leiana Abraham shares passion with student body
One by one, flashlights flick on and hands clap together rhythmically as senior Leiana Abraham walks onto the gym floor ready to perform in front of thousands of students and staff at the winter pep assembly. Abraham combines classical Indian dance techniques with hip hop in her performance to engage her peers and simultaneously represent her Indian culture in the process.
Abraham began Indian dance at Bharatam Dance Studio at a young age, describing classical Indian dance as the "foundation" and then branching out to ballet, hip hop and various other styles of dance. Abraham conveys the significance of the classical Indian style of dance and why she chose to perform that style at the assembly.
"I feel like [classical Indian] dance specifically tells a story because back in the day it would be used to talk about the stories of the gods and religion, and now it's used to tell stories and entertain audiences. So I feel like whenever I do that dance it feels special because you're always trying to interpret a story through the dance," Abraham said.
Abraham's mother, Jolly Abraham, explains why she started Abraham in Indian classical dance and the significance of doing that style.
"
"Classical Indian dance really helps bring out the significance of the culture in India. It holds the pillars of independence, strong womanhood and cherishing the art form done for generations. I wanted Leiana to be able to see what her culture upbringing consisted of and how that will impact her as she grows up through her family life and so much more." "
— Jolly Abraham
Being a member of the JV dance team, Abraham decided to switch gears and join Orchesis in order to be able to express her culture of dance.
"I thought [Pintos] was really cool because it made me more open to different types of dance, and it helped me grow as a dancer… then junior year got a little hectic, so I decided to stop dancing through the school, but I still wanted to keep dancing so I did Orchesis to spread a little bit more of my diversity and to show people what I grew up doing," Abraham said.
Physical Education teacher and the Orchesis Dance Company Director Stephanie Henrikson elaborated on the purpose of Orchesis and how Abraham contributes to this purpose.
"The purpose of Orchesis is to celebrate all genres of dance and all types of dancers. Leiana shares the beauty and intricacy of her cultural dance forms through challenging choreography and infectious rhythm," Henrikson said. "Her styles allow both the dancers and the audience to share in the celebration of how dance makes us feel, how dance is part of us and ultimately how dance connects us all in our humanity."
Abraham describes the cultural meaning behind various pieces of her clothing for the assembly, and why each piece is significant.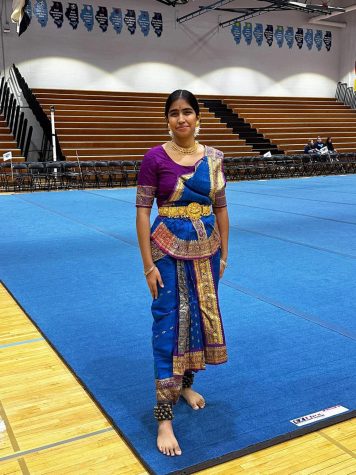 "It's rooted in our culture and tradition, and each garment and piece that you saw I was wearing had a significance. I wore a gold belt, and that showed maturity… I didn't dance with shoes on because I'm supposed to respect the ground that I dance on. We have bells on our feet to show the rhythm so a lot of the way I dance and the attire all have cultural significance to it," Abraham said.
Abraham describes how she felt going into her performance at the assembly.
"Going up to it, it was very nerve-racking because I didn't know how the audience was going to react, but while I did it, the school was really supportive and a lot of people cheered me on, so that made me feel really good about myself, and made me feel happy to share my culture," Abraham said.
Leave a Comment