DGS announces Jacob Giblin as associate principal
More stories from Marty Blader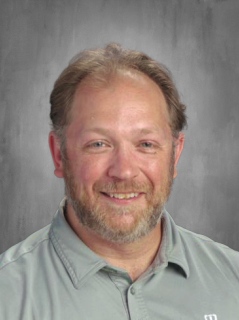 Current math department chair Jacob Giblin will become Associate Principal of Curriculum and Instruction at DGS starting in the 2023-24 school year, stepping in for the soon-to-retire Georgia Hash.
The role of an Associate Principal of Curriculum and Instruction, in simple terms, is to work with department chairs to set up curriculums and schedules, and to make sure students are in accessible and appropriate classes. Giblin explains why he is enthusiastic to take on this position.
"I'm excited to help students in every department through my role and help teachers in every department… The best part about [being a Math Department Chair] is being able to help the students and teachers who are coming through the math department, and [being an Associate Principal] allows me to do that at a much larger level," Giblin said.
There are five associate principals at DGS including Thomas Freyer, Sara Courington, Karen Taylor, Omar Davis and Georgia Hash. Principal Arwen Lyp explains how Giblin's experience working at DGS will contribute to the team's dynamic.
"Georgia Hash has been in our building for a very long time, and has been an associate principal for over a decade, and she has a wealth of experience of our building… When we knew we needed to replace [Hash] with a new team member, one of the things I was really hoping [was that] we would find is someone with that same level of experience and knowledge of our building," Lyp said.
Math teacher Matt Quatman emphasizes Giblin's ability to navigate the math department over the last seven years as a math department chair.
"[The math department is] one of the biggest departments in the school, and there's a lot of different personalities, and a lot of different people and a lot of different ages… I think [Giblin] does a really great job balancing out personalities and just the needs of the teachers," Quatman said.
Giblin has been a math teacher for the past 20 years, and as the math department chair he teaches one class a year. Junior Taylor Mitchell reflects on her experiences as a student of Giblin's and how she thinks his role as a teacher prepared him for the role of an associate principal.
"[Giblin] was very flexible and wanted everyone to do their best, which I definitely think could carry over into being an associate principal because he's very willing to help other people and will sacrifice as much time as he needs to do a good job of being there for people," Mitchell said.
Becoming an associate principal means Giblin will no longer teach any classes at DGS, which was a difficult choice for him to make.
"That is the hardest part of making this change; I'm a little sad actually. That's the part I still love, and it's my favorite part of what I do. That's the part I know I'm going to miss, and I'm most worried about," Giblin said.
However, Giblin remains optimistic as he anticipates his feelings and mentality for the next school year.
"It's very exciting, but there's a lot of people that rely on it, and I want to do the job well. Sometimes when you apply for a job you get it; you're nervous and you want to do the best job," Giblin said.
Leave a Comment