Marty's Musings: Why cheerleading should cheer for girls' basketball
More stories from Marty Blader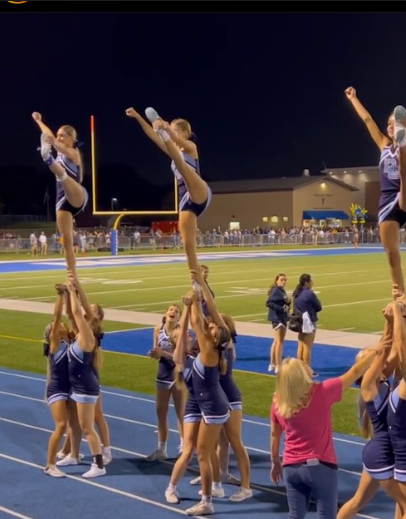 As the 2022 football season comes to a close, the varsity cheerleading team transitions from the football stadium into the gym, while simultaneously following in-suit with the societal norm of cheerleaders only cheering for boys' sports. This standard shouldn't be merely accepted, instead, it should be altered to a schedule in which the cheerleaders have the opportunity to cheer for both boys' and girls' basketball by only cheering at home games.
In a perfect world, the cheerleaders would be able to cheer at all the boy's basketball games and all the girl's basketball games, but the cheer team's busy schedule prevents this option from occurring. Between school, practice, boys' basketball games and competitions there is no room in their schedule for an additional commitment. Instead of accepting this minor inconvenience, the best compromise is for the cheerleaders to only cheer for home games for boys and girls basketball.
This initiative would allow both girls' and boys' sports to get equal recognition from the cheerleading team. In addition to this equality, the cheerleading team, due to their promotion of school spirit, would bring a large following to all the games. When asking the girl's basketball team about their stance on the issue, six out of nine of the players said "yes" to wanting the cheer team at their games.
One flaw in this plan is in relation to the significance of the games being played. For example, if the boy's basketball team has an away game at Hinsdale South, the fans are going to go to that rivalry game. So would it make sense for the cheerleaders to go to that game, instead of a potentially less important home game?
One silver lining to this problem is that a lot of the time the girls' and boys' basketball teams are playing against the same school that week. Therefore, this could be an opportunity to encourage more hype over rivalries amongst the girl's basketball team and not just that of the boys' teams.
On days the boys' and girls' basketball teams' schedules don't align, the cheerleading team could decide whether to go to the away game depending on the significance of the game, and the likelihood of the community showing up. This would encourage attendance at more important away games, without taking away school spirit from other DGS home games.
This change would ultimately promote women supporting other women, which is often overlooked in society today. It's important that we end the stigmatization of only cheering for male teams when there are other teams with less representation but should be treated with equal importance.
The tradition of cheerleaders cheering exclusively for boys' sports is outdated and absurd. As a team that prides itself on promoting school spirit, there is no reason to only support the male athletes at our school. Showing support for male and female athletes alike will discourage gender-based stereotypes that persist in society today.
Leave a Comment