Students and staff embrace holiday spirit by giving back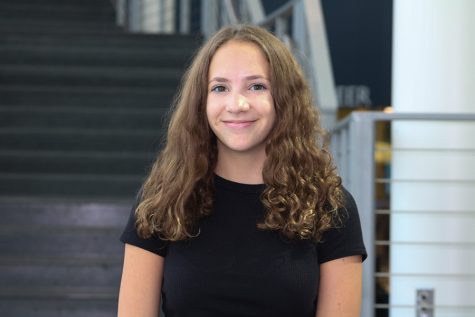 More stories from Maya Homberg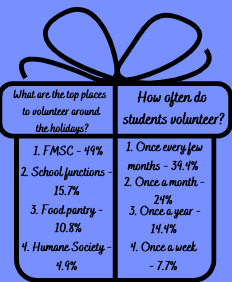 When people think of the holidays, one of the first things that comes to mind is giving. People are shopping for gifts, buying ingredients for family dinners and donating their time and money to special causes. Many community members are taking advantage of the many opportunities to give back during this time of year.
Senior Key Club member Abbey Rosko discussed her thoughts on volunteering around the holidays.
"I think there are definitely a lot more opportunities to volunteer around the holidays…it's a really great time of year where everyone wants to give to people they know, but you should also be giving to other people as well," Rosko said.
This giving-back spirit has increased in the past few years with the pandemic. With so many people donating time and supplies to help hospitals and the less fortunate, more and more people have been inspired to volunteer. Donating during COVID-19 spurred the holiday donations.
Health and P.E. teacher Jillian Erzig explained how she feels especially compelled to volunteer around the holidays.
"I think this time of year gives people an opportunity to feel blessed to have the opportunity to give gifts to loved ones and friends but also to donate time and money. I feel like it's just kind of right there in our faces: why don't we additionally give back to people who need a little assistance?" Erzig said.
DGS students agreed with Erzig. In a survey of 105 students, 35.2% said that they volunteer more around the holidays and another 36.2% noted that they volunteer year-round. Additionally, about half of the respondents said that their favorite place to volunteer is Feed My Starving Children, a nonprofit organization that sends food to malnourished people around the world.
Whether it's a nonprofit, a food pantry, the Humane Society or a toy drive, giving is a big part of the holiday season. There are many ways one can contribute to their community through school as well.
"Just look around and ask people you know; there's a lot of opportunities that you may not know about, so you just have to reach out to people and ask," Rosko said.
Leave a Comment