Failed District 66 referendum leads to school cuts
More stories from Juliana Conyer
School District 66 is facing a series of budget cuts in the 2022-2023 school year. These cuts were made after a referendum was voted against in the community. The cuts include fewer buses, shorter school days, no extracurricular activities and staff member cuts.
On June 28, members of the District 66 community voted on a referendum to increase the education tax of the area by 24% to avoid making budget cuts. The referendum did not pass, with 59.85% of the community members choosing to vote no, according to the Center Cass School District 66 website.
District 66 does not have enough money to have their schools – Elizabeth Ide Elementary School, Praireview Elementary School and Lakeview Junior High School – function at the same level as they have in years past.
Students and teachers have been in school since Aug. 17, and they have all had to learn the changes in the schools. Eighth grade Lakeview Junior High student Luke Conley spoke on the challenges he sees himself facing in the future due to the cuts.
"I do see the cuts being made affecting me. For one, we have no clubs or activities. In all of our exploratory [encore] classes, we have less budget to have materials with. So then we'll be used to having not as good classes, and then next year not knowing how to be able to work with all the new materials and tools that are available," Conley said.
Conley's classes are not the only thing being affected by budget cuts; the social atmosphere throughout the district has taken a hit as well.
"Especially on the bus and during passing periods, kids will talk about and have arguments on if the school needs more money or if it's too much to ask us [community members]," Conley said.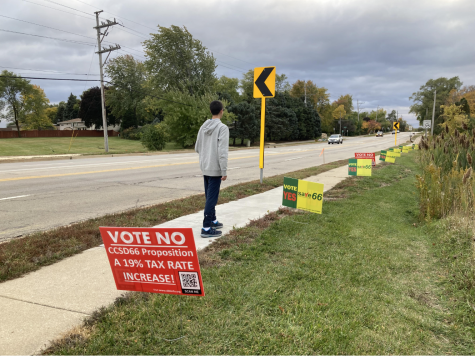 Students are not the only ones seeing changes at school. Teachers have also been affected by the referendum. Eighth grade science teacher Dominique Coomer has had to rethink how her classroom functions this academic year.
"Unfortunately, I have had to make a lot of changes to my curriculum because the school day has been shortened. I had to change some labs around and increase lab group sizes because our science department was not given a sufficient amount of money to purchase materials for our experiments," Coomer said.
Coomer also shared her concern for her students.
"On the heels of COVID-19 shutdowns, mandates and restrictions, these cuts are devastating to students. The first wave of cuts have deeply impacted our ability to provide a true middle school experience for our Spartans," Coomer said.
Parents are also seeing changes at home after District 66 has made its cuts. Mother Lisa Begler has two children in the school district. Begler describes her concerns for her children in the future.
"If it [the referendum] doesn't pass in November, I'm very concerned. If it's going to continue to be ongoing, I think it will affect them [the students] academically as well as socially," Begler said.
Father Tim Rylander has two children currently attending school in District 66. He describes some of the reasons members of the community may have chosen to vote against the referendum based on the financial information people were given.
"Instead of using broad-based statements like, 'This is important to ensure academic excellence,' and saying, 'We're doing this for the kids; otherwise, your kids will be in jeopardy,' rather than doing that, [we] really [should be] looking at expenditures and seeing if they are [the district] maximizing the revenue that's being brought forth," Rylander said.
Rylander also believes that students are still getting the most essential academic aspects included in their day despite the budget cuts.
"Even though services might be reduced, or there might not be as high of quality services presented, I'm a firm believer that if you put forth hard work and you continue to strive towards improving yourself, you still can be at an advantage to succeed," Rylander said.
The community will vote on the referendum again on Nov. 8.
Leave a Comment