COVID-19 effects on women in the workforce
On March 11, 2020, the word had been overwhelmed with a sense of alarm after the World Health Organization (WHO) announced the COVID-19 pandemic. The pandemic has proved to be increasing the existing tensions between women in the workforce and the U.S. economy.
Prior to the pandemic, many women were already facing a slow economic recession. Robin Bleweis, Diana Boesch and Alexandra Cawthorne Gaines stated in their article, "The Basic Facts About Women in Poverty", that a total of 21.4 million women lived in poverty, in 2018 conducted by their own research. Out of the 21.4 million women a majority were affected by the fact that even before the pandemic women's participation in the labor force had not returned to its 2000 peak.
"
Not necessarily inequality because they expect the same from you, but businesses that hire teenage girls should put more of an effort into securing their safety,"
— Anonymous
In Jan, 2021, a total of 5.4 million women lost their jobs, which is almost 1 million more job losses than men, according to the U.S. Bureau of Labor Statistics. The statistics aren't showing any signs of increasing with a total of 863,000 women dropping out of the labor force in Sept., about 4 times the number of men.
Patti Silverman, who is on the Advisory Board for SXSW and a Mentor for startups at 2112 Incubator, spoke on the gender inequality she has seen in the workforce.
"I have seen the ongoing [negative] effects of patriarchal standards and misogyny in thinking men can do a better job just because of their gender," Silverman said.
There is a misconception that the discrimination on women in the workforce is gone. Women in the U.S. who had previously made up 47% of the workforce prior to COVID-19, had shown to have 55% of the job losses due to COVID-19. A major reason being that the job fields with majority women employees had faced the most financial cuts, statistics and data found in Boston Colleges article "COVID-19 Impact on Women in the Workplace".
DGS senior Yamil Ortiz had begun working during her Sophomore year. She is currently employed at Old Navy.
"For other companies that are not a retail store, more men and masculine people decide to work and they might think they're your boss even though you've been working more than them. It's kinda ironic," Ortiz said.
DGS senior Julianna Sapiega, who has worked a total of 6 jobs, speaks on her experiences with gender inequality in the workforce.
"The boys don't treat me like I can't do anything they can. I work as hard and as long as they do," Sapiega said.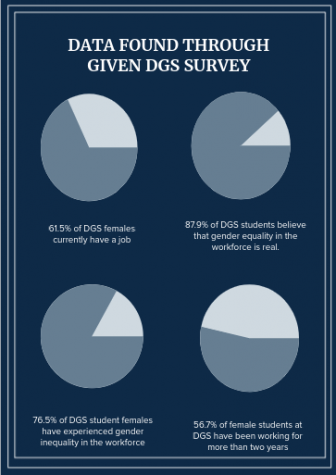 Titan Alon, Matthias Doepke and Jane Olmstead-Rumsey discovered a solution to the increasing gender inequality shown in the workforce, in their article "The Impact of COVID-19 on Gender Equality". They explained that to prevent further decline of women in the workforce, employers must be held accountable. This includes using a multi-pronged approach, which will serve to support women employees to prevent them from leaving the workforce.
In the meantime though, women employees and employers will continue to try to succeed in the workforce after the COVID-19 pandemic. As a reaction to the decline in employed women in the United States, many women and employers are coming together to brainstorm solutions such as the previously mentioned multi-pronged approach. Silverman has already planned to implement this into her work environment by 2022.
"I think some work environments such as mine are starting to see and hear more stories about unjust work environments, and I want to make sure they're supported," Silverman said.
"
I definitely feel that I was underestimated, especially since I worked in sports, "
— Anonymous