The COVID-19 pandemic has pinned another high school sport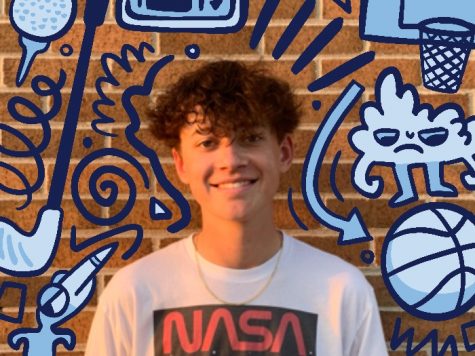 More stories from Andrew Calek
Like many other sports at DGS, the boy's wrestling season was at stake this year due to the COVID-19 pandemic. Classified as a high-risk sport, the boy's wrestling season was moved to late spring. Uncertainty remains a normality as we continue to settle into the new normal in high school sports.
The IHSA has dictated scheduling for seasons across Ill. Boy's wrestling head coach Sean Lovelace digests the new schedule prompted by the IHSA.
"The 2020-2021 IHSA Wrestling season has officially been moved to the late spring season which will start on Apr. 19 and go through Jun. 26…we will wrestle against West Suburban Conference opponents only….we are optimistic that we will have an IHSA State Tournament in June 2021," Lovelace said.
Lovelace and many other coaches in the West Suburban Conference expressed their opinion to the IHSA, urging them to make changes.
"We had many concerns about having the wrestling season during the winter, which is why we pushed the IHSA to move it to the late Spring. We are optimistic that we have advancements in vaccines and treatments, we will be in a much different place in terms of COVID-19 as we are now," Lovelace said.
Junior wrestler Jimmy Nugent has never dealt with a season quite like this year. Nugent explains his concerns for the upcoming season.
"My concern isn't about COVID-19, it is about the governor of Illinois not giving us an opportunity. There is wrestling going on in our neighboring states, there are people from Illinois wrestling in other states, the world is going on and I think for us to just sit and wait is silly. I don't think we should ignore how serious the virus is, but I do think it is time for improvement," Nugent said.
The team atmosphere is still alive among the boy's wrestling squad. With the possibility of cancellation of the season, the boys decide as a team what their future in sports might entail.
"Talking with a lot of the guys on the team there was a consensus that if we don't have a season, we want to play a different sport in the springtime….for most of the athletes in our school, sports is a distraction from everything going on around them—and a productive distraction too," Nugent said.
Nugent illustrates his optimism for the upcoming season.
"I think that wrestling, just like any other sport if proper protocol is followed, could happen during springtime. I am optimistic that we will have a season especially with new breakthroughs in research happening every day," Nugent said.
Senior wrestler and football player Joe Davison has experienced both of his sports being at risk of being postponed to next year. Learning about the relocation of the seasons was a sight for sore eyes for Davison.
"Ever since they announced that we'd be starting in February for football and April for wrestling, I have been in a much better place. It took a while for them to figure out when our season would take place and finally we got answers," Davison said.
As for all other sports at DGS and across Ill., new guidelines and restrictions were added to the agenda. Davison clarifies these new rules and regulations for wrestling.
"Our athletic director did a good job laying out guidelines for us. It was as expected: masks, six feet apart, sanitized equipment after use. I have seen wrestling tournaments going around everywhere so I feel like it will just be a season with masks," Davison said.
Many states around Ill. are holding a boy's wrestling season as scheduled in the winter. Lovelace shares his final thoughts about this season.
"There are no guarantees that our season will successfully happen in April, but it is a lot more likely to happen in April than in November. Wrestling will be happening in every state around Illinois this winter and we are hopeful that we can do the same safely in April through June this year," Lovelace said.