District 99 discusses concerns as students prepare to return to school
More stories from Annie Le
The week of Oct. 19 will be the first week of hybrid learning for the students of District 99. The school board is setting a goal of this being the first of many weeks of in-person learning with a long term goal being discussed of expanding in-person learning for second semester.
Though, with the introduction of the new modified hybrid schedule, superintendent Dr. Hank Thiele has expressed concern regarding potential transportation conflicts due to the sharing of buses with the feeder school districts.
"Over those couple of weeks [of October], District 58 will be ramping up their attendance days, so this really could have ramifications in transportation on how bell schedules fold together," Thiele said.
The potential issues regarding transportation will continue to be discussed as the lower school districts come to their own plans regarding in-school learning. Another issue that has added to this point of contention is a fact expressed by Thiele that the buses must and will be sanitized between every bus run. Furthermore, social distancing guidelines necessitates more buses as the allowed number of students per bus has greatly decreased.
As a reported 73% of students return to school, associate superintendent Gina Ziccardi gives a view of what in-person learning will likely resemble based off of the state mandated Oct. 14 SAT testing date for seniors, for which concern was expressed as it entailed about 700 seniors coming into school at once.
"It's 13-14 [students] per classroom. I believe we have 51 classrooms at [DGN] and maybe 58 at [DGS], so [they'll] definitely [be] social distancing, definitely abiding by all protocols," Ziccardi said.
This comment followed the acknowledgment of the volatility of the circumstance, noting that if the transmission status moves from moderate to substantial, different conversations will be had with the DuPage County Department of Health and other school districts regarding the continuing of the school year.
Currently, the state of affairs disallows the setting of long term goals for the district, as expressed by Thiele.
"We have not started any long range goal planning like we typically would [during] the summer months. All of our time has been spent on trying to get school back," Thiele said.
However, Thiele still set a shorter term goal as the second quarter of the school year approaches.
"[Second semester goals] will be looking at revising and expanding in-person learning, assuming everything goes well," Thiele said.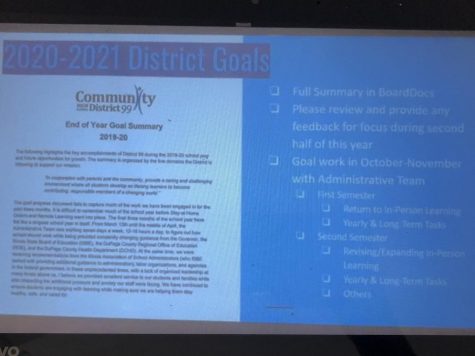 The uncertainties that currently face students and teachers are more than just logistics as the handling of curriculum must also be addressed. Currently, final exams remain up in the air as Thiele communicated that those responsibilities will remain with each course team, i.e. the math department will decide how/if math final exams will take place, etc.
Despite the unpredictability of school and extracurricular operations, many students are optimistic about the progression of the school year as new options are explored. Student board member Zoe Boyd is among those that have found favorable and/or interesting solutions to the conflicts presented by the ongoing pandemic.
"I'm in choir and I've enjoyed all the new ways that we've found to produce music for our future performances—we've been trying to do it online, and it's a little tricky but I think it's really cool that we can have 50 plus kids recording and all coming together to make a final product," Boyd said.
Over the next several weeks, the district will continue to assess the safety of returning to school and find solutions to the unsettled logistical concerns. The option of opting out remains open for all students returning to in-person learning at any time.