Alina Brindza putts her way from high school to college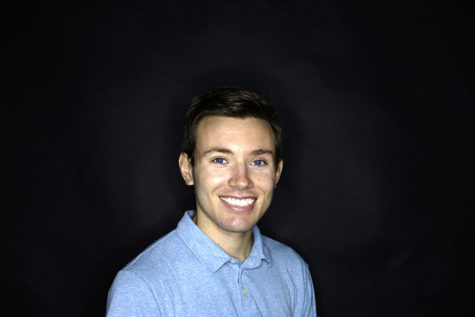 More stories from Paul Szmanda
One clean swing and the ball goes flying off the tee. It launches into the horizon before it falls back onto the green with a bounce. For senior Alina Brindza, this is the last year playing golf at DGS, but her relationship with her sport isn't over.
Brindza started playing golf in her freshman year of high school. Flash forward three years, and she is getting ready to commit to play golf in college. Her advance in the sport came through hard work, determination and learning to not let a tough hole get to the best of her.
"I've definitely improved most on my mental aspect of the game. Freshman and sophomore year, I had the worst mental game on the team. I would let everything affect me, but now I kind of tune things out, and if I have a bad hole, I'll just forget about it," Brindza said.
While she believes golf to be more of a mental sport, this doesn't mean any less practice on the course. Whether she's out on the driving range or practicing her short game, Brindza trains seven days a week to remain en pointe.
"Golf is a repetitive sport, so if you miss a day, you'll get thrown off," Brindza said.
Brindza's efforts haven't gone unrewarded. Earlier this season, Brindza scored a personal record of two below par on a par-36 course. The match was against Downers Grove North, and the girls beat their crosstown rival by one point.
Lindsay DeGiulio is the coach of girls golf. She has worked with Alina for the past four seasons and has seen what she described as "significant" improvement.
"It would just be her confidence out there, her knowledge, her ability to take on difficult courses and not be affected by it," DeGiulio said.
DeGiulio also pointed out that Brindza has lowered her average score by approximately 20 points. (For those who don't know, the lower the numerical score in golf, the better the athlete played.)
Today, Brindza is still deciding on the college to which she wants to commit. Among her top candidates are Benedictine, Carthage, Lewis and Milliken. Nonetheless, she already has a game plan to get herself in the mindset of a college-level golfer.
"I'm going to obviously grind harder in the off season. … I'll probably practice more specifically on my weaknesses, and … I'll be training myself in the off season to play longer courses rather than high school courses because they're shorter than college courses," Brindza said.
For now, all eyes are on regionals as the girls aim to qualify as a team. Last year, Brindza qualified for regionals individually, but she couldn't make it through the play-offs to advance to sectionals. This year, the state tournament awaits her as she competes with everything she has gained from four years of experience.
Golf has also had a large impact on Brindza's personal life. Although she has had much success as an athlete, her favorite part of the game is the people she meets. One fellow golfer with whom she has bonded is junior Grace Reichert.
"We like to mess around with our coaches and stuff, and the other girls on the team. Golf is one of those sports where you don't know anyone. So we just like to make everyone comfortable, and have fun," Reichert said.
Brindza has been a leader on the team, being one of two team captains. Being a year younger, Reichert said she has learned much from her time playing golf with Brindza, particularly the value of keeping your eyes on the prize.
"If you have a bad day, you have a bad day, and your next round of golf is a new round, and what happened yesterday doesn't really matter. Just work as hard as you can whenever you can," Reichert said.
Leave a Comment