Top 10 Tuesday: Best March Madness games of 2019
More stories from Trevor Owcarz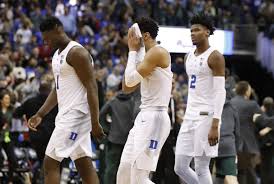 10. 2. Michigan State vs. 15. Bradley
Despite marching to the Final Four, number two seed Michigan State faced a big test from a streaky Bradley team, who won their conference to get into the dance as a 15 seed. While Bradley held the halftime lead, Michigan State rallied behind Cassius Winston, who led a comeback where the Spartans pulled away late to win 76-65.
9. 12. Murray State vs. 5. Marquette
The hype around this first round matchup was centered around two future NBA draft picks in Murray State guard Ja Morant, a likely top three pick in this June's NBA draft, and Markus Howard, Marquette's streaky and powerful guard. The two scorers exchanged baskets early on, but Morant took over, leading the Racers as a 12 seed to upset the Golden Eagles.
8. 13. UC Irvine vs. 4. Kansas State
A popular upset pick heading into the dance, the 13 seed Anteaters used clutch three point shooting to pull away late and take down the Wildcats. Max Hazzard's three pointer with 1:29 left clinched the upset for the Anteaters, giving them their first ever tournament win.
7. 2. Kentucky vs. 3. Houston
A battle of two potential Final Four teams saw the Cougars go head to head with John Calipari's big Wildcats team. Kentucky and Houston exchanged baskets all night long before PJ Washington and the Wildcats pulled away late on some clutch shooting by Washington and guard Tyler Herro, winning 62-58.
6. 5. Auburn vs. 2. Kentucky
This Elite Eight matchup featured the upstart Tigers against the Wildcats, and the game did not disappoint. Auburn's abundance of shooters caused problems for Kentucky before Washington again kept Kentucky alive. However, the Tigers outplayed the Wildcats to advance to their first Final Four in team history.
5. 3. Purdue vs. 2 Tennessee
This game became a shootout early on as the third seed Boilermakers matched up against the two seed Volunteers. Ryan Cline scored a career high 27 for Purdue, where he exchanged three point bombs in the second half to help force overtime. However, the brilliant play of Cline and Carsen Edwards gave Purdue the lead in overtime, in which they finished off Tennessee with a 99-94 win in the highest scoring game of the tournament.
4. 1. Duke vs. 8. UCF
Oh what could have been. Duke trailed eighth seed UCF by two with consensus number one draft pick Zion Williamson shooting free throws. Duke was down by two with less than a minute to go, and Williamson only converted one of two. However, RJ Barrett came up with the rebound and dropped in the second chance basket to give Duke a one point lead with 14.4 seconds left. However, the Knights came up with a plan for the win, but B.J. Taylor missed the game winning jumper and Aubrey Dawkins' tip in rolled off the rim as time expired to give Duke the 77-76 victory.
3. 2. Tennessee vs. 10. Iowa
This second round matchup was one of the best games of the tournament, as the Hawkeyes rallied from a NCAA record tying 25 point deficit to force overtime against future NBA player Admiral Schofield and the Volunteers. The tenth seeded Hawkeyes gave Tennessee all they had, but it was future NBA draft pick Justin Williams coming up clutch in overtime to help advance Tennessee to the Sweet Sixteen.
2. 2. Michigan State vs. 1. Duke
Duke's mighty reign over college basketball came crashing down as Tom Izzo's Spartans went head to head against Williamson and Duke and came out on top. Kenny Goins hit a big three pointer to give MSU the two point lead with 34.3 seconds left. While many expected Williamson to get the last shot, RJ Barrett drove and was fouled. However, he only made one of two free throws with little time left, and Cassius Winston was able to dribble out the clock as the number one overall seed in the tournament fell to the Spartans.
1. 1. Virginia vs. 3. Purdue
While we were treated to many great games this weekend, the best one we saw was the one seed Virginia Cavaliers take down the three seed Purdue Boilermakers in overtime 80-75. This game had it all, as Purdue point guard Carsen Edwards dropped 42 points, including 11 three pointers, but Virginia held on for the win in overtime. The Cavaliers forced overtime as Mamadi Diakite scored his only two points on a jumper as time expired. Ty Jerome had grabbed the rebound after a missed free throw careemed all the way to backcourt, where Jerome corralled it and swiftly passed it to Diakite, who drained the jumper in the most dramatic moment of the tournament.