Game, set, match: DGS tennis star qualifies for state
More stories from Andrea Davenport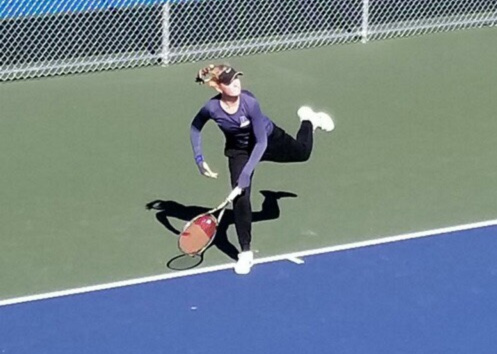 The sun was out, but it was cold. The wind blew as sophomore varsity tennis player Gerda Jucys stared down her opponent at the other end of the court. She threw the ball up into the air, swung her racket and hit the ball with all the power she could muster for one last serve.
At 9 a.m. on Thursday, Oct. 18, Jucys played the match of her lifetime, qualifying her for day two of the IHSA State Finals tournament held at Wheeling High School in Wheeling, IL. Although she initially lost on that cold Friday morning, Jucys placed 26 out of 64 girls in the state. She is the first girl from DGS to qualify for the state tournament in five years.
It was a long road getting to this point in her career — Jucys has been playing tennis for 10 years. Beginning as a little girl in a tumbling class, Jucys found her true calling at the age of nine.
"I started playing around five years old. My parents enrolled me in a tumbling class like all the little kids do, and I liked it and it was right next to these tennis courts. I was always watching those kids play. So, I started out playing [tennis in] those little classes. … Around eight years old I started getting pretty good and I wanted to play more tournaments, so I got a private coach to help me get better. So around nine years old, I started playing tournaments, which is when my love for the game really flourished because I just love the whole competition aspect," Jucys said.
Assistant varsity head tennis coach and special education teacher Robert Kud has coached Jucys for two years. Throughout her two seasons playing for the DGS team, Kud has noticed significant improvements in both her abilities and leadership qualities.
"Just this year, she has shown potential for leadership, captain type material. She's come a long way because, being the number one singles player, you are in your own world and there is a lot of pressure in that one spot … it's important to be a great tennis player, but also be a great teammate and support others and encourage them … She is a very determined, goal-oriented athlete who is willing to put in the work to achieve her goals. She has a lot of technical talent, technical skill. She will succeed as long as she keeps her mental toughness where it needs to be and stay positive one point at a time, one game at a time, one set at a time, one match at a time," Kud said.
Josh Forst, the head varsity tennis coach and freshmen mathematics teacher, has noticed these improvements as well.
"As our most skilled player, she is taking it upon herself to help other girls and build those relationships. As a player, she has gotten a lot better in her game … She has found ways to control her emotions a little bit better on the court. She has had a lot of tough matches that I think she has learned a lot from, and skill-wise, I think she's grown and become a more aggressive player with a bigger skillset, so she is able to dictate matches more," Forst said.
Jucys's teammates, senior varsity players Alisha Macas and Lizzie Andonova, have also noticed this increase in leadership qualities. Not only do they look up to her as a player, but as a friend.
"She works hard and is dedicated on an off the court … She is able to strategize ways to put the ball on court, especially if we are playing points during practice or anything. She knows how to get in the person's head, and to easily win the point," Andonova said. "This year, I was just having struggles myself and she was able to help me overcome those struggles and just play my best. She is such a great person to be around, and when we play tennis I just look up to her even though she is younger than me."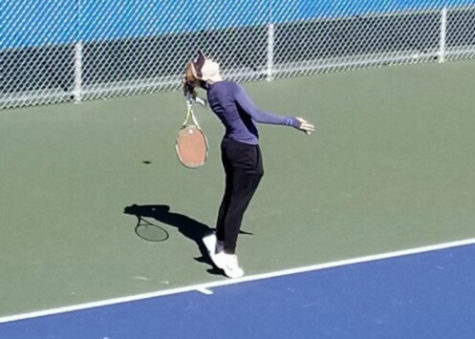 Similarly, Macas views Jucys's tennis playing as inspirational, experienced and influential.
"She plays very smart. She definitely knows when to keep a rally going and when she should go for a more aggressive play. I think that's what makes her so good, is that she knows exactly what she should be doing at what time … Playing with Gerda has definitely made me a better tennis player because when you play with really good players you become better yourself," Macas said.
With her current success, Jucys hopes to make All-State before she graduates DGS and wants to continue her tennis career into college. Aiming for a recruitment to her top choice, University of California Los Angeles (UCLA), she is focusing on improving her personal rankings and playing in numerous tournaments.
Kud, on the other hand, believes she is almost college athlete material; although, continuing to improve in ability is always a good thing.
"She is almost college ready right now. If she pursues it with the passion she has now, and stays committed to the sport, keeps that intensity, works on mental toughness, she will be a collegiate athlete for sure," Kud said.
After much encouragement from her coaches and teammates, and embracing her experience at the state tournament, Jucys intends to concentrate on improving what she already knows and does well.
"It's made me more excited for tennis, knowing I have accomplished something that I couldn't last year, which shows I have grown as a player and I am just excited to see how far I can go next year … I am going to start practicing a lot more and working a lot harder. I am going to start focusing more on very specific details, instead of just the big picture. My future and main goal is to make it to D1 and I want to focus more on college, getting my rankings up and getting better individually," Jucys said.