Say bonjour a Madame Reuillon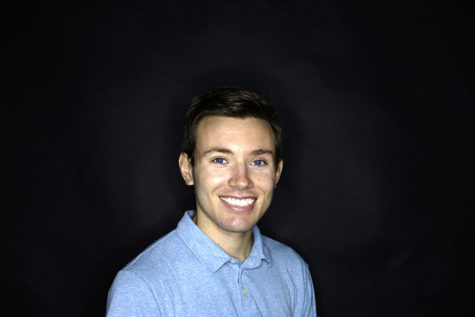 More stories from Paul Szmanda
Sophia Reuillon is a new teacher at DGS.  She is excited to be teaching French at her alma mater.
Q: Where did you go to school?
A: Downers Grove South, and then U of I, and then New York University.
Q: How long have you been teaching?
A: This is my 12th year.
Q: What subjects do you teach?
A: French I and French IV/V/AP.
Q: What is your favorite subject to teach?
A: Of those two, I love French IV/V/AP, because they can communicate, they can really use their French. They have a level of French where it's fun. You could actually stay in the language. But overall in French, I love level II.
Q: What are you most excited about at DGS?
A: It's just exciting to teach in my alma mater and having had the experience of the students in these same desks and that same classroom, it's exciting to kind of see it from the other perspective … having been here as a student, more than working at any other school, I can really know exactly what it was like to be a student here–to be a Mustang. To be in this environment, to know these hallways, but to experience it from a teacher's perspective, I think it's going to help me to relate to the students even more. It's just kind of an interesting experience that I wouldn't have if I weren't working at my own alma mater.
Q: Where else have you taught?
A: My first teaching job out of college was Neuqua Valley, in Naperville. Then I taught for three years in Lyons Township in LaGrange, prior to moving to France, and in France I taught [English class] at a private, bilingual school called Ecole Jeannine Manuel, and that was my job before coming here.
Q: Have you ever been to a foreign country?
A: Yes, I've just moved here from France. I've been living in Paris for the last seven years, and I travelled a lot around Europe, and I've lived in Paris also as a study-abroad student in college, and I did a summer study-abroad in Spain, in Salamanca.
Q: What is your favorite memory from teaching?
A: Honestly, there are so many good memories and so many different memories. Most recently, with my job in France, I was working with elementary-aged kids … last year, we organized a flash mob, and it was with my fourth graders. So all the fourth graders in the school were privy to the secret flash mob that they were organizing to surprise all of the upperclassmen, because it was a primary school, middle school, and high school on the same campus. So just that, those little kinds of activities and fun things that we do outside of teaching, outside of the normal curriculum — I think those stand out the most. So, that flash mob was a great experience. As far as teaching French goes here, the memories that stand out the most are the French Club activities that I did with the students. We took them ice skating Downtown once at Millenium Park. Taking them to French restaurants, the fundraisers, the homecoming parade, those types of events stick with me.
Q: Are you related to anyone in the school?
A: My mom [Connie Petrakos] taught here for most of her teaching career. She just retired this year from the English department.
Q: You are teaching at both DGS and DGN. How does that work?
A: So, the schedule is actually very nice. I have first period off. I teach second, third, fourth here. Then I have fifth and sixth off — fifth is a lunch. So what happens during my sixth period is, rather than doing a study hall or something, I have that time to commute to North [High School], and I teach the last two periods [at DGN] … I imagine that it's just easier for the district to, rather than hiring two people part-time — also, it's harder to find people to work part-time, you know teachers are more interested in having a full-time job with benefits and a full-time salary — rather than getting two people in. So they asked if I was interested. I said, 'Yes.' And it's nice because I kind of get to see the culture of both schools.
Q: What's something your students probably do not know about you?
A: I don't know. I was very open with them on the first few days. They might not know that I'm afraid — terrified — of moths and butterflies. That's a weird thing about me that they wouldn't know … I think it has to do with how fragile they are … I think it's from when you hatch butterflies, and the teacher tells you, 'Don't touch them. If you touch their wings they'll die because they can't fly.'  I think I must have had this fear that if they come too close to me and they touch me, I'll kill them. I don't know. That's the only thing I could think would be the reason why I don't like them so much.
Leave a Comment