Kaitlyn Hopp: A hop, skip and a jump away from the pool
Hang on for a minute...we're trying to find some more stories you might like.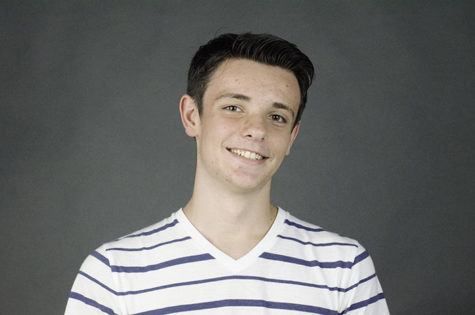 More stories from Matthew Hollendonner
DGS senior and swimmer Kaitlyn Hopp has committed to Anderson College's swim team, the Ravens.
Hopp's swimming career started early on and it didn't take long for her to compete at the next level.
"I started swimming when I was six and I have been competitively swimming for around twelve years," Hopp said.
Hopp has been working towards her dream to become a collegiate athlete to compete in girls' swim for years and is getting one step closer to her goal.
"Before my injury I planned on swimming at college. I still am planning on swimming in college," Hopp said.
With support being given from friends, family and staff, Kaitlyn's mother, Lorrie Hopp stands at the front of the pack voicing her own support.
"Yes, swim is extremely important to her, first, it shows the effort she puts forth, swimming requires a lot of time and dedication. It isn't something you can do halfway. She is extremely dedicated and makes sure she is the best that she can be," Lorrie Hopp said.
Kaitlyn Hopp's main focus for the near future is to continue to get better while attempting to not push herself as she did before.
"I am dedicated, I make sure that I stay strong so I don't hurt myself. I am working hard at practice to make sure I stay in shape and working hard to make my injury not come back or become more severe," Kaitlyn Hopp said.
Kaitlyn Hopp's dedication to getting better hasn't gone unnoticed, Allie Puccillo, teammate, and friend of Kaitlyn Hopp had this to say about her commitment.
"I believe with a good work ethic and mindset anyone can achieve success and Kaitlyn has both of those things. Not only does she work hard in the pool, but she never gives up," Puccillo said.
While Kaitlyn Hopp may be competitive, it doesn't stop at the front door. A big factor in Hopp's success can go by the hands of her younger sister Madison.
"My sister and I have to compete against each other all the time, it's something all athletes do. It is just a little healthy sibling competition. We help push each other to do our very best," Kaitlyn Hopp said.
Kaitlyn Hopp's mother confirms that this rivalry is a big factor as to why she is able to compete at her level and want to get better.
"Maddie definitely started swimming after watching her sister compete. Even though they are three years apart, they are still very competitive with each other," Lorrie Hopp said.
Kaitlyn Hopp might be talented when she hits the water, but those who are close to her understand that she offers something even bigger to her family.
"On the other hand, they are also each other's biggest supporters. They really enjoyed having one year together on the DGS team before Kaitlyn graduates. Her sister has followed in Kaitlyn's footsteps and really respects what Kaitlyn has been able to achieve," Lorrie Hopp said.
With Kaitlyn Hopp's climb back to where she was prior to the injury it brings plenty of spotlight to what she has missed and what she is doing to get back to her old self. "
When I first got back I had to take it easy because I was coming back from PT, and I didn't want to hurt it by pushing it considering I had been out of the pool for six weeks, it was hard not to push myself to make the sets or the times. I had to take it day by day. I still do have to stop swimming and rest if I feel a small pain, but I have to end practice if it hurts bad." Kaitlyn Hopp said.
However, Kaitlyn Hopp hasn't always been committed to swimming. At one point, she was an athlete trying to rebound from an injury.
With injury it puts a strain on more than the athlete, it can directly affect the family, friends and even the staff. Kaitlyn Hopp's friend and teammate Isabelle Genin had this to say.
"With her being gone it was hard not having her positive attitude and I could see it in her that it was hard because all she wanted was to be in the pool … she was able to get better because she understood the importance of rest, it took a couple of people to tell her to sit out but she took the advice," Genin said.
With Kaitlyn Hopp's time at DGS winding down and her friends and family feeling the growth back into the pool, those around her made it clear that she will be missed.
"She was at every practice, every meat cheering people on so there weren't any issues there … It's always hard when we lose teammates and seniors, always," swim coach Paul Krick said.
Parting ways for Kaitlyn Hopp will be equally as stressful.
"I will miss DGS, I have been apart of the swim team and I'll miss the girls too because they have been my family for all four years," Kaitlyn Hopp said.