Running through the storm: seniors find sanctuary amidst mental illness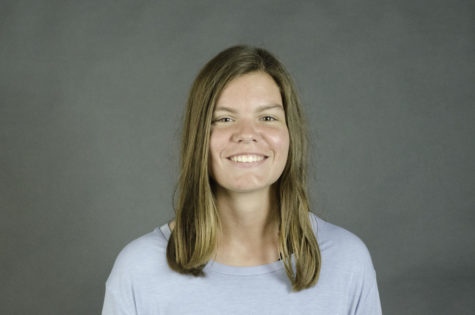 More stories from Sarah Major
"It's hard to go up to someone and be like, 'Hi, nice to meet you, I have depression.'"
The girls all nod in agreement as senior Riya Bhasin speaks softly, the room silent aside from her words filling the air. There are five other girls scattered around the room, some eating snacks before practice begins, others sitting in desks listening.
For the past 45 minutes, Bhasin and fellow seniors Gabby Senne, Katie Meyr, Natalie Olsen, Gillian Thomas and Maddie Manganiello have sat in an empty classroom, openly discussing their mental health—the good and the bad. It's a conversation they've had many times before, both during cross country and track practices and throughout time spent together off the track.
Five of the girls, Senne, Meyr, Olsen, Thomas and Bhasin, ran both cross country and track at DGS throughout their four years of high school. Maddie Manganiello, an All-State long jumper, joins the group in the winter with the beginning of track season.
The girls, who often hang out outside of their sport, have grown to rely on one another throughout high school. Senne, Meyr, Thomas, Manganiello and Olsen each live with anxiety, and Senne, Olsen, Manganiello and Bhasin also live with depression. Each of the girls has endured numerous ups and downs throughout high school, but each remains humorous and persistent.
"We're all messed up. That's what I told Riya when she told me [she was going to therapy], we're all messed up," Senne, the most outspoken member of the group, said with a smile.
Meyr, a 2017 Snowball and Mad Dash Director, greets everyone she sees in the hallway with a friendly grin and a hello. Taking a glance at her, she appears to be the ideal high school student, capable of balancing a multitude of responsibilities with ease. What many do not know is that Meyr originally became involved in a multitude of activities in order to prevent herself from becoming overwhelmed after struggling with anxiety for the majority of her childhood.
"Instead of having all this anxiety and being alone with my thoughts, because that's when I would feel really anxious, I would go forth and be in all these clubs and all these activities and always book my schedule because all that built-up energy, I would just use it in school … I thought my world was perfect, but I was just kind of pretending I was perfect, and I didn't even know I was pretending," Meyr said.
Another über-involved student, Bhasin was a 2017 Mad Dash director and participates in other clubs as well. She began going to therapy during her senior year after dealing with depression for months.
"Not just accepting but understanding that I have depression took more time than I think that it should have … I thought that I wasn't good enough, and that just didn't make sense in my head because I'm not that type of person," Bhasin said.
After competing for the DGS swim team her freshman year, Thomas switched to cross country and had an extremely successful season her sophomore year, competing at the 2015 IHSA State Finals. It was this success that amplified her struggle with anxiety, as she began to place pressure on herself.
"Track suffered when I started feeling anxious because at that point, I knew I could do really good on the high school level as a runner. I was already on varsity, I was running fast times during cross country, and along with having the new stress that I didn't know about, that I had anxiety, I added another stress of having expectations … I used to tell myself, 'If you just do really well in this race, then you can be happy the rest of the weekend,'" Thomas said.
Manganiello, a participant in long jump, placed seventh at the 2017 IHSA State Finals. She has lived with anxiety and depression since she was a young child and explained how her mental illness has impacted her athletic career.
"We would have workouts where you'd feel sick, and I would have a meltdown, and no one understood, and that was really hard for me. People thought I was slacking, but inside I felt like I was being destroyed," Manganiello said.
One often-overwhelming aspect of mental illness is the isolating impact that it can have on an individual. Because of the stigma attached to mental health, many shy away from discussing their struggles, but for the six girls, running has provided them with the mental strength needed to be unashamed of their mental illnesses.
"When you're in cross country, the mental stress that you put on your body, you learn so much more about yourself. You reach a new level of maturity when you put yourself through that much pain, so you discover and uncover a lot of things that go on in your life," Meyr said.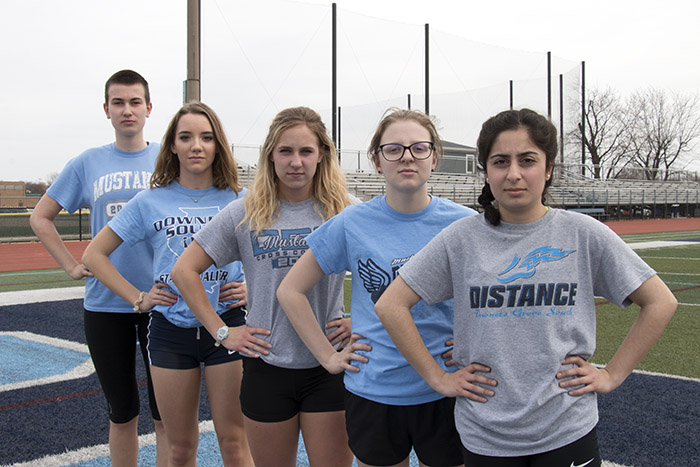 Additionally, the girls have found common ground with their mental illnesses, bonding together by spending long runs discussing stressors in their lives. During senior year especially, such a practice has both improved their mindsets and provided them with a sense of togetherness.
"We're all dealing with similar things especially now with college, so being on a run with a bunch of people and yelling at each other at the top of your voices and just screaming at the top of your lungs because you're so angry. Like yeah you're tired, but you don't care about that," Senne said.
Thomas echoed the same sentiment, explaining the impact that positive friendships with members of the cross country and track teams have had on her throughout her mental health journey.
"Having that team, it's so hard to describe. I wish I could just put you in the team and then you could know what it's like. They are such beautiful people. Everyone I'm around, I love," Thomas said.
Aside from the support that the friendships have provided each of the girls, running consistently gives them a space to find solace. Olsen, a member of DGS Madrigals and numerous clubs, is currently injured, and she described the importance of running on her mental health.
"The wonders that a 30-minute easy run can do for you is amazing, like you would have never guessed just running for 30 minutes. You just feel cleansed and just like a new person. It was really how I dealt with a lot of stresses of the school day and just my life in general. Not being able to do that right now has been really hard, and I think that it's really affected my mental health because I really used running as a good coping mechanism," Olsen said.
Senne emphasized the importance of running, explaining how the mindfulness aspect of mental health has been strengthened by her love for the sport.
"Just being outside and something about your heart racing and pushing yourself to do something has always been a great feeling for me … During my runs I'm very aware of what's going on, very mindful. Like yes when my therapist tells me to be mindful, I tell her to shut up, but when I'm running I do it because that's what running does to me. It's voluntary, it actually helps," Senne said.
Ultimately, their mental illnesses have and will continue to impact their lives, both on the trail and in day-to-day life. Now years after her initial diagnosis, Manganiello spoke to the way that she views her mental illness.
"This experience has helped me with patience and I've also grown closer to God through it all, so I don't regret anything that's happened to me at all and I also don't wish that I didn't have depression and anxiety because I feel like that's made me who I am. I think that's important to realize sometimes," Manganiello said.
With the end of high school approaching, a few of the girls will continue their athletic careers in college, while the rest will retire from competition. One day, they will look back on their time spent toeing the starting line, shoulder-to-shoulder with teammates that became best friends, with gratitude and nostalgia for the journey that each of them experienced during their time at DGS.
"Freshman year I wrote in my cross country letter to my senior self, which I did not remember writing until I opened it this year, and it said something along the lines of, 'If you make it to senior year, congratulations, keep going, because right now you don't think you will,'" Senne said.
Not only have Senne and the rest of the girls made it to their senior year, but they have flourished in their roles as members of the girls' cross country and track teams, finding a friendship with each other that will undoubtedly carry all of them into new seasons of life.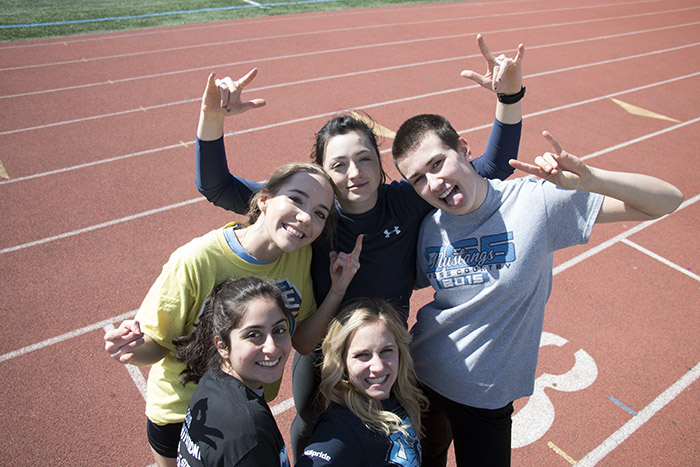 Leave a Comment