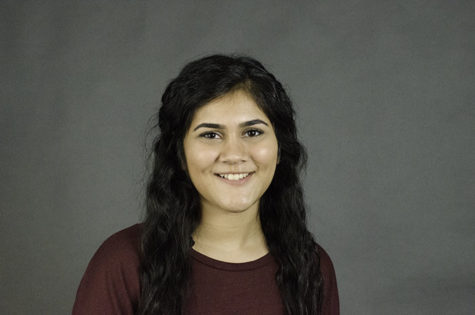 Srushti Desai is a junior at DGS and the Print Entertainment Editor for the Blueprint. She loves badminton and has been on the DGS badminton team since her freshmen year. Desai competed at a varsity tournament during her sophomore year.
At DGS she is involved in Peer Leaders, Maddash and Mustang Way.
Desai would like to go to University of Michigan or University of Arizona to major in psychology. Outside of school, Desai loves going to concerts and listening to music in her free time. Her favorite musical artist is Shawn Mendes.
Desai volunteers as a math tutor at the Downers Grove Public Library and is a volunteer at Advocate Good Samaritan Hospital. Desai enjoys helping people and has been to Feed My Starving Children events many times.
Srushti Desai, Print Entertainment Editor
May 18, 2018

Same old, same old: makeup tutorials fall flat

(Story)

May 18, 2018
May 03, 2018

Throwback Thursday: Mary Mulcahey

(Story)

Apr 04, 2018
Mar 23, 2018

Throwback Thursday

(Story)

Mar 23, 2018
Mar 21, 2018
Mar 13, 2018

Top 10 (granola bars) Tuesday

(Story)

Mar 07, 2018

Weekly Horoscopes

(Story)

Feb 14, 2018

Which wacky holiday are you?

(Story)

Jan 29, 2018
Jan 16, 2018

More than one way to apply foundation?

(Story)

Jan 10, 2018
Dec 18, 2017

The facts behind standardized testing

(Story)

Dec 01, 2017
Nov 29, 2017

They love me, they love me not? Find your daily horoscope here

(Story)

Nov 21, 2017

November 21, 2017

(Story)

Oct 26, 2017
Oct 05, 2017

Drugstore makeup dupes: Is boujee always best?

(Story)

Sep 21, 2017

Fenty Beauty: new makeup line by Rihanna

(Story)

Sep 14, 2017

Taylor Swift changes her 'Reputation' with two new singles

(Story)

Sep 12, 2017

Top 10 Tuesday: Back to school essentials

(Story)