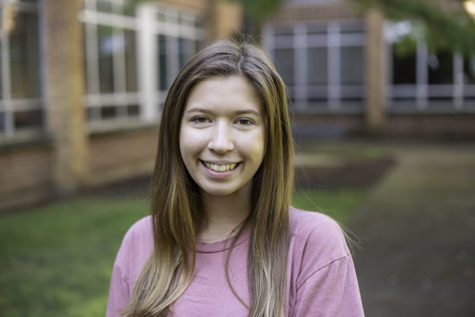 Sam Perkins is a senior at DGS and is the Photo Editor for the newspaper. In her freetime she loves taking photos and has been involved with photography at DGS since she was a freshman. Perkins has competed in multiple photography contests within the last few years and has won most of her awards at Scholastic.
Next year, Perkins hopes to attend DePaul University in Chicago and get an art, media and design degree. After college, she wants to be a product photographer for a major company and shoot wedding, portrait and travel photos.
Perkins is also part of the DGS tennis team. She played on JV for her first two years, then on varsity last years. Perkins has placed at conference all three years and hopes to win at conference her senior year as well.
Sam Perkins, Photo Editor
May 14, 2019

Top 10 tips for planning a perfect summer vacation

(Story)

May 14, 2019

DGS Spring Art Show packed with student artwork

(Story/Media)

Apr 30, 2019

Freshman girls' softball puts up a fight against OPRF

(Story/Media)

Apr 16, 2019

Varsity boys' tennis wins big against Willowbrook

(Story/Media)

Apr 11, 2019

TBT: Michelle Kravec

(Story)

Mar 18, 2019

Chicago celebrates St. Patrick's day by dyeing the river green

(Story/Media)

Feb 22, 2019

Students and staff dress up in support of DGS spirit week

(Story/Media)

Feb 19, 2019

Weekly Preview: Feb. 18 – Feb. 22

(Media)

Feb 15, 2019

Should you ask your crush to the Winter Dance?

(Story/Media)

Jan 29, 2019

DGS bowling team strikes down their competition

(Story/Media)

Jan 29, 2019

Movies 'Split' and 'Unbreakable' combine into one new Sci-Fi movie called 'Glass'

(Story/Media)

Jan 25, 2019
Jan 17, 2019

TBT: Elena and Jackie Kuczkowski

(Story)

Jan 16, 2019

From 'Gossip Girl' star to psychopathic stalker– Penn Badgley stars in new Netflix series 'You'

(Story/Media)

Dec 21, 2018

Varsity boys basketball 2018-19

(Story/Media)

Nov 30, 2018

Previous DGS student is now the new assistant speech coach

(Story/Media)

Nov 29, 2018

New Netflix series 'Motown Magic' grooves through racial barriers

(Media)

Nov 28, 2018

Top 10 reasons why I love and hate the snow

(Story/Media)

Oct 25, 2018

TBT: Andrea Wiltz

(Story)

Oct 17, 2018

Varsity girls volleyball set at senior night

(Story)

Oct 11, 2018

Chicago Blackhawks open their season with a bang

(Story/Media)

Oct 04, 2018
Oct 03, 2018

How Logic created a legacy through the Young Sinatra era

(Media)

Oct 02, 2018

Top 10 fall scents to spice up October

(Story/Media)

Sep 26, 2018

Horoscopes to get you through the week

(Story/Media)

Sep 26, 2018

Nike made an educated decision to choose Kaepernick for their campaign

(Media)

Sep 13, 2018

Dear seniors: making this your year

(Media)

Oct 03, 2017
Sep 26, 2017