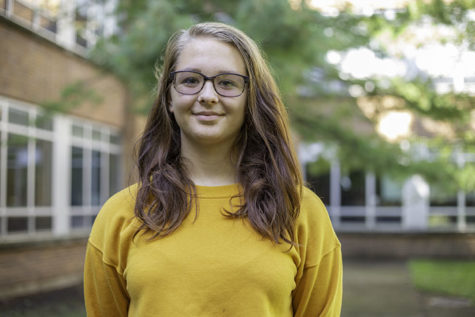 Rachel Ley is a junior at DGS and the Print Entertainment Editor for Blueprint. She is heavily involved in the music program at DGS and can most commonly be found roaming the music wing or in a practice room.
Rachel Ley is a longtime honors English student and has a strong passion for reading and writing. She has enjoyed writing all her life and loves telling stories. Ley was nominated for Young Author's State competition and was sent to a conference at Illinois State for her writing achievements.
Ley is involved in symphonic and pep band and has been a member of the Marching Mustangs for the past three years. She values friendship, hard work and commitment--which are all things she's learned to appreciate in marching band.
Rachel Ley, Print Entertainment Editor
May 19, 2019
May 02, 2019

My junior year lament

(Story)

Apr 23, 2019

Students believe philanthropy assembly 'grazes over' the seriousness of depression

(Media)

Apr 18, 2019

Badminton Q&A with varsity athlete Selia Fry

(Story)

Apr 04, 2019

A breakdown of the Stranger Things 3 trailer

(Story)

Mar 22, 2019

A vegetarian walks into a burger joint…

(Story/Media)

Mar 22, 2019
Jan 25, 2019
Dec 21, 2018

Multicultural Photo Gallery

(Story/Media)

Dec 12, 2018

D99 students perform annual holiday concert

(Story/Media)

Dec 08, 2018

Sexual harassment training is state wide

(Story)

Nov 16, 2018
Oct 26, 2018

Which Halloween Monster are you most like?

(Story)

Oct 04, 2018
Sep 20, 2018

Homecoming assembly to be the 'star' of the show

(Story/Media)

Sep 14, 2018

Thrifting: Why my style from elementary school is cool now

(Story/Media)