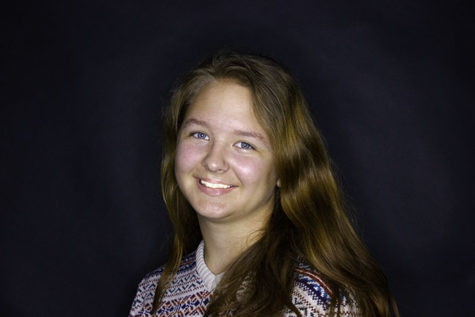 Rachel Ley is a senior at DGS and is the Print Co-Editor-in-Chief, and she has been on Blueprint staff for two years. She enjoys entertainment writing and the process of watching the newspaper come to life when all the hard work starts to pay off. 
Ley is involved in band at DGS and has been for all four years of high school. She has been in band since fifth grade and has always loved making music with her peers, but she sees herself thriving most in a marching band setting. She is the trumpet section leader of the Marching Mustangs, and she is also involved in wind symphony and pep band. 
In her free time, Ley loves to spend time with friends, listen to music and cook dinner. She loves trying new recipes and learning how to get creative in the kitchen. 
After high school, Ley plans to attend the College of DuPage for two years before she transfers to a four-year university. She plans to major in secondary education.
Rachel Ley, Print Co-Editor-in-Chief
Oct 11, 2019

Marching Mustangs place first at Romeoville High School

(Media)

Oct 11, 2019

Friendship Friday: Iconic duo Claudia Bringle and Karin Schroeder

(Story/Media)

Oct 01, 2019

Boys soccer takes advantage of MFP-granted turf practice field

(Media)

Sep 27, 2019

'Tall Girl' surpasses expectations

(Story/Media)

Sep 18, 2019

Coping with friends who have left for college

(Story/Media)

May 02, 2019

My junior year lament

(Story)

Apr 23, 2019

Students believe philanthropy assembly 'grazes over' the seriousness of depression

(Media)

Apr 18, 2019

Badminton Q&A with varsity athlete Selia Fry

(Story)

Apr 04, 2019

A breakdown of the Stranger Things 3 trailer

(Story)

Mar 22, 2019

A vegetarian walks into a burger joint…

(Story/Media)

Mar 22, 2019
Jan 25, 2019
Dec 21, 2018

Multicultural Photo Gallery

(Story/Media)

Dec 12, 2018

D99 students perform annual holiday concert

(Story/Media)

Dec 08, 2018

Sexual harassment training is state wide

(Story)

Nov 16, 2018
Oct 26, 2018

Which Halloween Monster are you most like?

(Story)

Oct 04, 2018
Sep 20, 2018

Homecoming assembly to be the 'star' of the show

(Story/Media)

Sep 14, 2018

Thrifting: Why my style from elementary school is cool now

(Story/Media)