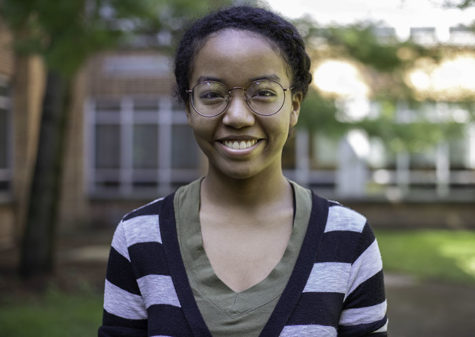 Emmanuelle Copeland is a senior at DGS. Over the past four years, she has been committed to both the arts and sciences.
Copeland is the vice-president of her school's masque and gavel. Copeland is also the head of the hair/makeup/costume crew for productions done at DGS.
Although she is dedicated to the performing arts, she is also a competitive artist in the visual arts. Copeland has been accredited to various competitions. In the last year, Copeland has won best-in-show at the General Exhibition of the Illinois High School Art Exhibition. Most notably Copeland is a national gold medalist with an American Vision Award.
Copeland is also the secretary of her school's research club, currently working on a research project with Lewis University to develop a photocatalytic nanocomposite water filter. She is also on the Citizens' Climate Lobby and remains a politically active community member.
She was also a member of the 2018 State Champion journalism team.
Emmanuelle Copeland, Print Features Editor
May 19, 2019
May 15, 2019

Eman's Declassified High School Survival Guide

(Story/Media)

Apr 25, 2019

Construction for the Master Facility Plan begins over spring break

(Story/Media)

Mar 22, 2019
Feb 21, 2019

Mandatory attendance at the 2019 Spirit Week Assembly

(Story/Media)

Feb 16, 2019

Why I'm done with the show 'Friends'

(Story/Media)

Feb 07, 2019

TBT: Janella Guzman

(Story)

Feb 07, 2019

Internet shaming has become the new form of bullying

(Media)

Nov 16, 2018

Fundamentals of fighting

(Story)

Jan 25, 2019
Jan 09, 2019

A look into the new year: Horoscopes 1/9

(Story/Media)

Dec 21, 2018

Why Multicultural Studies is important

(Story)

Dec 07, 2018

Freshman Friday: Sammy Bachara

(Story/Media)

Dec 05, 2018

Animal poaching and the communities left out of the conversation

(Story/Media)

Dec 03, 2018

DGN alumni group advocates for changes in District 99

(Story/Media)

Nov 16, 2018
Nov 16, 2018

'Beautiful Boy' breaks addiction stereotypes earning a 9.5/10

(Media)

Nov 16, 2018

SoundCloud rappers mumble rap: are we missing the moral message?

(Story/Media)

Nov 01, 2018

Throwback Thursday: Maddy Moushon

(Story)

Nov 01, 2018

Halloween is sexist: how costume manufacturers hypersexualize women and hyper-masculinize men

(Media)

Oct 16, 2018

Top Ten Tuesdays: Autumn Anthems

(Story/Media)

Oct 05, 2018

Happy Homicidal Egomaniac Day … sorry, I meant happy Columbus Day

(Story/Media)

Oct 04, 2018
Sep 12, 2018

Most Teens posters are cute — I'd rather they be useful

(Story/Media)

May 18, 2018

Netflix Originals: Are you still watching?

(Story)

May 18, 2018

Finding inner peace in the tough times of Yanny versus Laurel

(Story)

May 18, 2018
Apr 06, 2018

Slacktivism: 'hashtagging' out of the conversation

(Story)

Mar 22, 2018

Should you 'Love, Simon'?

(Story)

Mar 21, 2018
Jan 29, 2018
Dec 16, 2017

Freshman Friday: Matthew Jablonski

(Story)

Dec 13, 2017

Top 10 Tuesday: Songs to spice up a study session

(Story)

Dec 01, 2017
Oct 26, 2017
Oct 10, 2017

Leila Morof: DGS's gift from Germany

(Story)

Oct 06, 2017

Freshman Friday: Lestin Kandakudy

(Story)

Oct 01, 2017

Anonymous Alerts: Newest edition to school security

(Story)

Sep 22, 2017

Broadcast News: Sept. 22

(Story)