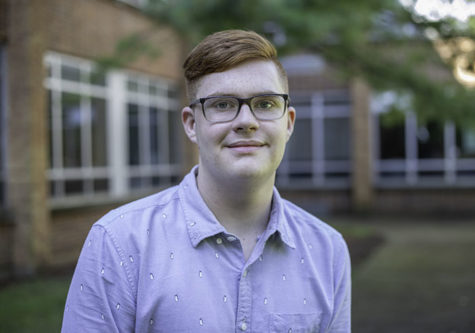 Colin Dodd is a junior at DGS and is the Print Opinions Editor for the Blueprint. This is Dodd's first year on Blueprint, but he was a club member his sophomore year. Dodd has competed in multiple creative writing contests and has one short story published. At DGS, he is involved in German Club and PRISM.
Dodd aims to go to University of Texas at Austin to major in creative writing or journalism and possibly get a teaching degree. During free time he will either continue attempting to finish his book--either reading or writing--or play with his little brother. His hero is the author Terry Pratchett.
He attempts to volunteer when not busy babysitting his brother. The most prominent volunteering he did was being part of the crew that restored the gardens in front of Eisenhower Junior High. Dodd also tutors his friends and neighbors whenever they have trouble with a subject.
Colin Dodd, Print Opinions Editor
May 07, 2019

Dismissive doctors

(Story/Media)

Apr 23, 2019

Dispenser despair

(Story/Media)

Apr 09, 2019

AP tests and how to prepare

(Story/Media)

Mar 22, 2019
Mar 04, 2019

Recess: Re-incorporate it

(Story/Media)

Feb 22, 2019

Advocating against advocacy projects

(Story/Media)

Feb 19, 2019

Students choose with Student Choice

(Story/Media)

Jan 25, 2019

Marty, I think it's time we had the talk

(Story)

Jan 25, 2019
Dec 19, 2018

Horoscopes 12/19

(Story/Media)

Dec 06, 2018

TBT: Kevin Senese

(Story/Media)

Nov 02, 2018

Why you need to quit your job

(Story/Media)

Oct 30, 2018

Red Dead Review about Red Dead Redemption 2

(Story/Media)

Oct 26, 2018

Freshman Friday: Robert Del Cotto

(Story/Media)

Oct 26, 2018

Why the food is off the 'Charts'

(Story/Media)

Oct 04, 2018
Oct 01, 2018

Weekly Preview: Oct. 1 – Oct. 5

(Story/Media)

Sep 12, 2018

Top Ten Tuesday: books in general

(Story/Media)

Oct 25, 2017

The drowning repeatedly unit

(Story)

Oct 10, 2017

Why do we keep things locked up inside?

(Story)