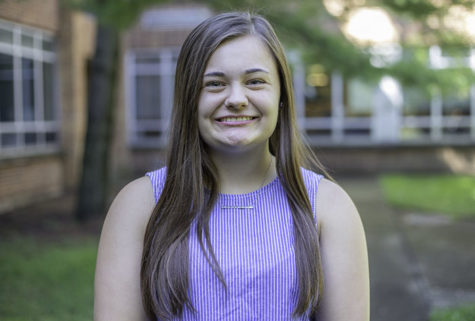 Becca Pritchett is a senior at DGS and the Head Copy Editor for the Blueprint. She is on the varsity cheerleading team and has been since her sophomore year. She loves helping others and is involved in many activities in her school and community, some of which include: Snowball, Mad Dash, Peer Led Life Skills and Snowflake.
In her free time, Pritchett loves spending time with her friends and family. She loves taking her Bernese mountain dog, Finn, on walks and enjoys being outside. Pritchett loves going out for ice cream and going on drives with her friends. She also loves babysitting and working with children. She expresses this by working with middle school students in the surrounding areas through the Peer Led Life Skills teaching program run by the Downers Grove Township.
Pritchett isn't sure where she would like to attend college, but is currently looking at Hawaii Pacific University, the University of North Carolina Wilmington, the University of Florida and North Carolina State University. She would like to study biology and either be a marine biologist or work with genetics. She has always been interested in the sciences and has taken more science courses than necessary to graduate through her years at DGS.
Becca Pritchett, Head Copy Editor
May 03, 2019

Lacrosse Q&A With Freshman Ysa Pakowski

(Story)

Apr 23, 2019

Top 10 Tuesday: turning 18 isn't as fun as it seems

(Story)

Apr 11, 2019

Dimitri Kourafas: The heart of senior assassins

(Story)

Apr 08, 2019

Weekly Preview: 4/8 – 4/12

(Story/Media)

Feb 21, 2019

Mandatory attendance at the 2019 Spirit Week Assembly

(Story)

Feb 08, 2019

With petition ready to sign, Kling aims to ban corporal punishment

(Story/Media)

Feb 01, 2019

What 2019 holds in store for DG Snowflake

(Story)

Jan 29, 2019
Jan 17, 2019

I have the voice of a 10-year-old girl — on helium

(Media)

Dec 11, 2018
Dec 07, 2018

Women diversifying the STEM field, one opportunity at a time

(Story/Media)

Dec 04, 2018

Top Ten Tuesday: French Fries

(Story/Media)

Nov 09, 2018

What Thanksgiving food are you?

(Story)

Oct 09, 2018

Weekly Preview: Oct. 8 – Oct. 12

(Story/Media)

Oct 04, 2018

Midnight Terror brings sizable disappointment

(Story/Media)

Sep 26, 2018

Inflatable helmet 'blows' DGS football away

(Story)

Sep 13, 2018

Tommy Staruck: a star in the making

(Story/Media)