DGS Orchesis Dance Company: Where culture gets the spotlight
More stories from Jo Stewart
Captivating Bollywood, rhythmic hip-hop, upbeat Latin and emotional lyrical: these are just a few examples of what DGS's Orchesis Dance Company can do as they celebrate the diversity and culture of dance. Students of all ages and cultures are invited to gather weekly in the DGS dance studio to get ready for the showcase this February.
The club, founded in 2018 by former student Blessy Jacob and current senior Renatta Jacob, has been encouraging cultural expression through dance since its creation. Before Orchesis, the only dance opportunities at DGS were through the Fillies, Pintos or the musical. Students struggled to find opportunities to share love and passion for their unique cultures.
Senior Ashley James has been able to express her love for Indian culture in her past three years of Orchesis. As a choreographer and leader of the Bollywood dance this session, she has been able to meet other individuals who share her passion. James was quick to express her appreciation of her opportunities through Orchesis and the ability to share her culture in a safe space.
"I'm Indian, and being able to do Bollywood dances is very important to me because it's kind of like a way of showing off my culture," James said. "I think it's a very inclusive environment."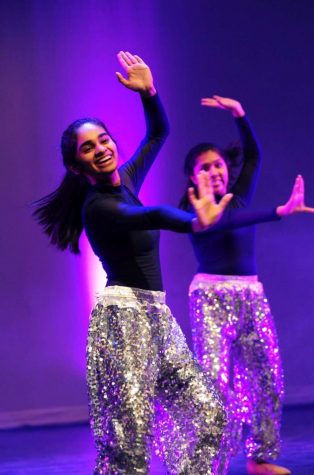 Bollywood dancing, best known as a fusion of dance styles popularized by Indian films, has been a part of Orchesis since its first showcase in 2019. The group, and every other genre celebrated by Orchesis, couldn't run without advisor and P.E. teacher Stephanie Henrikson. When asked about Henriskon's involvement in amplifying inclusivity in the program, James was quick to respond.
"Our teacher Mrs. Henriskon is always asking for people to show off their cultures and to show off what makes them unique. She's always encouraging us and asking us for people who have special types of dances that aren't usually seen… so we can really show the community what Orchesis is about and how diverse and inclusive it is," James said.
A dancer herself, Henrikson expressed how important diversity and culture is to her and in the world of dance, and why DGS needed a new program.
"We already have great programs. We have wonderful dance teams, there's Caribbean Soul, we've got Steppers, K-Pop; but we didn't have dance in a real inclusive place for all styles. We have lots of dancers in this building… and they needed a place that wasn't genre specific," Henriskon said.
Henrikson states that inclusivity and culture has always been a part of Orchesis, and is what the group was founded on. One of her goals is to keep the program as a safe space for students to express themselves no matter their background.
"Dance is universal. Dance is something that all cultures share, or can share, and it's like any of the arts… we see each other for the humanity we share, so I think dance is no different than the other arts in that it has a very human universal component to it. It's a perfect place for different cultures to be represented," Henrikson said.
Orchesis is in the very beginnings of its rehearsals for its next showcase, and its members and sponsor plan to keep the diversity, culture and inclusivity rolling. Be on the lookout for their next showcase this coming February.
Leave a Comment