Boys basketball gets ready to rumble
Hang on for a minute...we're trying to find some more stories you might like.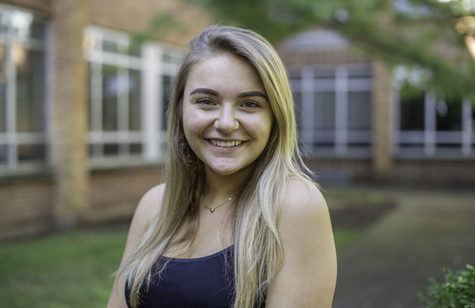 More stories from Ina Barashka
The boys varsity basketball team began their season with back-to-back losses at Oswego East high school and Naperville North high school, but were able to make a comeback with a current record of five in four.
The Mustangs have three returning starters from the 2017-18 school year, along with their top two scorers, seniors Justin Eagins and Wesley Hooker. This year, Eagans is one of three captains and hopes to continue the winning streak with plans to lead the team into playoffs.
"Our expectations are to continue to win, play together and hopefully go far in playoffs…I plan on leading by example, through hard work and talking to the guys, making sure we [are] on the same page," Eagins said.
This is junior Christopher Gory's first year on the varsity team and says varsity cannot be compared to the lower-level teams because of its intensity and dedication requirement.
"Varsity is just a different level of competition. Everything is faster and every little thing matters both in practice and in games — if you're not working your hardest, you're not going to be able to compete…100 percent effort is expected," Gory said.
He is taking note of what it means to be on a high-level team and has begun looking up to his older teammates for inspiration and leadership skills.
"Being a younger member on varsity is a big learning experience. It's teaching me how to be a leader for next years team,"
Since the beginning of the season, the team has been working on connecting more outside of school in order to perform better on the court. Many of the players believe that lack of chemistry was the cause for the season's rough start, such as senior Adam Puszkarski.
"We've really come together as a team and have started to play as one unit. In the beginning of the season we were struggling to play with toughness and togetherness but now we are starting to play with a lot of energy…this is a really good sign going further in the season," Puszkarski said.
Eagins agrees that staying together through adversity is key in a successful team and season. He believes this is something that the team needs to improve on.
"Something we need to improve on is staying together through adversity like tough times on the court — us not playing well and us being down and losing. We have to get through all of that and stay together," Eagins said.
Gory states that the team needs to be more mentally tough when it comes to overcoming adversities on and off-court, this is not only due to the connection between the players but how well they know each other as well.
"Something we are trying to improve upon is being more mentally tough. We are tackling that by continuing to [about] our]selves and learn each other's strengths and weaknesses," Gory said.
In order to build a better connection, the players have been spending time together outside of school with the goal of creating tighter bonds between each other.
"We work on our team chemistry every day by always helping each other out and making sure we got each other's backs… we basically do things as a team off-court: going out and sharing meals together really helps build our team chemistry. We make sure we set up team goals rather than having individual goals that could separate us as a team," Puszkarski said.