Running all the way to state and beyond
Hang on for a minute...we're trying to find some more stories you might like.
More stories from Ashley Boak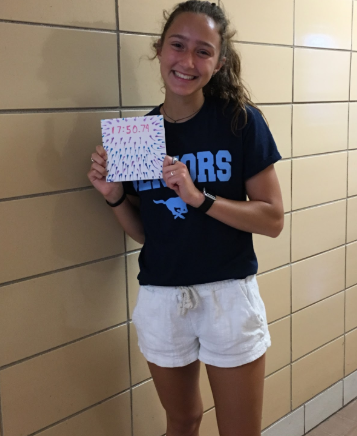 While some runners may be discouraged by their coach saying, "No one remembers second place," senior cross country runner Melissa Weidner uses it to push herself even harder to achieve her goals.
Weidner has been a cross country runner for all four of her years at DGS and is currently the captain of her team. She has been on the regional, sectional and state team for the past three years and hopes to be on it again this year.
Weidner holds multiple records on the field house wall including number seven for the freshmen three-mile, number eight for the sophomore three-mile and number five for the junior three-mile. She is ranked number eight overall for the school's best three-mile time and is also ranked 22nd in the state. With all of her great achievements in mind, Weidner opens up about her own personal views on running.
"I feel like running is such a raw sport; either you're good at it or your not. It's not like volleyball where the other team could mess it up for you, it's like you do it all yourself," Weidner said.
After having to face the difficult decision her freshman year of whether to continue running or swimming, her ultimate choice was to go the running route.
After starting her running journey in 8th grade, Wiedner fell in love with the sport and quickly wanted to advance herself in the sport. With Weidner working so hard everyday on her daily warm-up, with a run varying from seven-10 miles, two to three times a week, she knew that it was going to take a lot out of her to achieve greatness during her races.
With a pre-race routine of meditation so she can connect with her body and drinking only powdered food on race day, Weidner always strives to get first place.
"I always think that if I work really hard in practice, then the meet can't hurt that much," Weidner said.
While some may face challenges of being the captain of a no-cut sport with 59 girls on it, Weidner pushes through those challenges with a piece of advice that she lives by. This piece of advice is something Weidner uses to try and help her team be the best they can be.
"You can't train how I'm training because we already have a Melissa on the team. We can't train how Becky's training because we already have a Becky on the team. If you train and race like someone else, then you aren't helping yourself," Weidner said.
The cross country team is striving for a national championship and with Weidner leading the team, they are on the right path to achieve that goal. Weidner wishes to break her top times this coming senior season.
Goal tiles have been something that the team has done for a few years now. The girls create a colorful ceramic tile, with a goal of something that they want to achieve during the season. Once they achieve the goal, they are allowed to break the tile on the ground!
Since the team has already won two invites, they are on the right track to achieving all of their goals in the 2018 cross country season. The 2018 team hopes to place first at state and would love to advance to nationals as a team.