Sisters succeed on the varsity volleyball team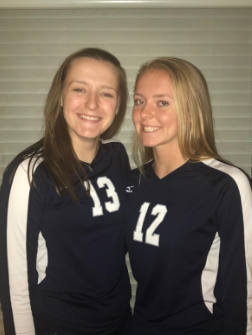 Hang on for a minute...we're trying to find some more stories you might like.
For sisters Lucy and Rose Dumford, volleyball is a big part of the family. Together, they live the reality of being sisters on the same volleyball team.
Junior Lucy Dumford and sophomore Rose Dumford both made the varsity volleyball team as sophomores, making this their first year playing a DGS sport together. Lucy Dumford  is an outside hitter, while Rose Dumford is a middle hitter causing them to be side by side throughout the game.
Although this is their first year being on a DGS team together, it is not the first time they've played a sport together. "My sister and I used to be on the same soccer team back when I was in third and fourth grade. Back then we hated it and fought a lot, but now it isn't like that at all," Lucy Dumford said.
Being in high school now, it's different. The girls get along very well and always cheer each other on. "I like being on a team with her because we don't fight that much, and we have inside jokes that makes practice and games enjoyable," Rose Dumford said.
Both girls emphasized that being on a team has not only made them closer, it has also made practices and games a little more fun.
"We do have a really good time and share inside jokes and our own sort of language that no one else understands, and everyone thinks is really funny," Lucy Dumford said.
Trisha Kurth, the varsity volleyball coach of eight years, has never had sisters on the volleyball team before. "Lucy and Rose, it's funny because, being sisters, they are very close, so they kinda bring a funny sisterly humor onto the court," Kurth said.
Players and coaches take notice in the bond that these two sisters have while playing a sport that they love.
Senior Clare McNeeley has also been on the team since she was a sophomore, and she shared her opinion. "I've never played with two sisters before, so I was sort of excited to see how this year would turn out. Last year, I played with Lucy, and she was always so confident and calm on the court, and now being on a team with Rose, she's the same way," McNeeley said.
Although volleyball takes up a large amount of time, Rose Dumfords first sport is soccer. She goes from volleyball practice straight to soccer many days of the week. "It's pretty difficult balancing things but as the season goes on, it's gotten easier. I've found a pretty good balance by making sure I talk to my coaches about my schedule," Rose Dumford said.    
Lucy, on the other hand, plays club as well as high school volleyball. One of her biggest accomplishments was her club team ranking 25th in the nation by PrepVolleyball, a large volleyball news source.
 Kurth believes in a bright future for both girls. "With Lucy being a team captain this year, I see her sister following in her footsteps. I see leadership from both girls. I see that ability to be a high level student as well as a high level athlete," Kurth said.
In the future, Lucy Dumford plans to play division one volleyball and study exercise science while her sister plans on continuing to play soccer after high school.