Stephen Pipilas' run to state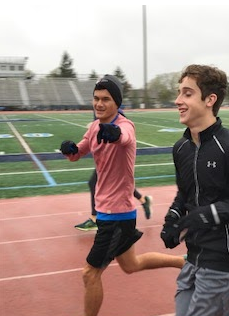 Hang on for a minute...we're trying to find some more stories you might like.
Captain of the boys' Varsity cross country team, senior Stephen Pipilas looks to top off his career with a state qualifying time for the three mile and become one of the best runners in DGS history.
Pipilas has been running on varsity since freshman year, and he has his eye on two specific individual goals. He plans on running the three mile race in 14.35.00 minutes or faster and be top ten at state as well.
"My individual goal is all state, preferably top ten and to run 14.35.00 for the three mile," Pipilas said, "but it will be hard."
Every year, Pipilas' three mile time has decreased and improved. He started his career with a time of 16.27.9 minutes, and as he approaches the last few weeks of the season, his time is now 14.52.5 minutes.
Pipilas believes he can achieve his goals, and so does the head Varsity cross country coach. Coach Brian Caldwell, who has been training him his entire career at DGS, shares his expectations for Pipilas this season.
"We believe he should finish his cross country career this year as the fastest time in school history if the course conditions are good. We also hope he can be an all state runner. He would be the fourth ever in school history. Those are his expectations and I don't think we are setting crazy goals. That is where he should be and that is where he will be," Caldwell said.
Caldwell believes with Pipilas' consistent performances, he will be able to achieve these expectations. He believes Pipilas will have a great advantage over most kids due to his consistency.
"That is one of the hallmarks of his career, his consistency. He doesn't really have ups and downs. He will have OK races, good races or great races; he doesn't have bad races…With his consistency, he is a strong enough runner to qualify [for state] even on an OK day…Although, the key thing is that we need him to have a great day," Caldwell said.
Friend and teammate since seventh grade David Patel also sets high expectations for Pipilas. Patel strongly believes that Pipilas has what it takes to qualify and compete down at state.
"As a runner, he's a big competitor. He has been a top runner for as long as I can remember since seventh grade for Jefferson cross country. He has a lot of talent, he works really hard and he is going to be one of the top guys this fall at state," Patel said.
With high expectations, Pipilas is required to work hard in practices and/or workouts everyday. As most high school sports and athletes are training six days a week Monday through Saturday, Pipilas is training every day of the week. Pipilas has no days off.
"It's just our culture now [to work hard] and our expectation is to do what you're supposed to do and not slack off. You don't benefit if you don't work hard everyday," Pipilas said.
Patel shares his thoughts on Pipilas during practices, and how he is passionate about improving.
"His hard work ethic is contagious to those around him, and he always has a good attitude and a funny personality. He makes those around him better, and especially himself. He never cheats and settles for an easy day," Patel said.
Caldwell sees a great leader within Pipilas as he observes him within trainings.
"He does play a big role in our team..he is also one of the team's captains, and he does a nice job of leading his teammates through drills and just being a nice example of working hard," Caldwell said.
Pipilas has his mind focused on these next few weeks of practices and meets. With his mind set on qualifying for state, he is not as focused on scholarships from colleges. Although it is very important for him to move on and run in college, he wants to take one thing at a time.
"I've been talking to Loyola, ISU [Illinois State University], Miami OH," Pipilas said. With the season not over, Pipilas hopes to be recruited by many more schools to open up his options.
Pipilas uses his work ethic and leadership skills to surpass any obstacles that may be in his way. With his dedication and determination, Pipilas will be down at state this fall for cross country.