Students and staff blossom into 'plant people'
Everyone has a little something that they are utterly obsessed with. Some people love stamps, coins, Pokemon cards, clothing or solar dancers. And then, there are plant people.
There is no formal definition for plant people, but they are people that have such a deep love for all types of plants, and have lots and lots of them. Plant people are also often very skilled in tending for their plants.
Plants are more than just for aesthetics. They actually offer benefits to your home. According to Strutt & Parker, the top benefits of owning a plant are that plants purify the air around you, increase concentration and productivity, relieve stress and anxiety and help you sleep.
According to Garden Pals, houseplant demand surged 18% during the COVID-19 pandemic. In addition, 66% of American households own at least one houseplant.
Senior Bradley Padavic explains where his love for plants all started from. He has been a plant person for 3 years, but his plant obsession had begun just before his freshman year of high school.
"I bought an orchid just before my freshman year started; I just saw it at Home Depot… and it was really pretty, so I got it and now my entire desk is covered [in plants]," Padavic said.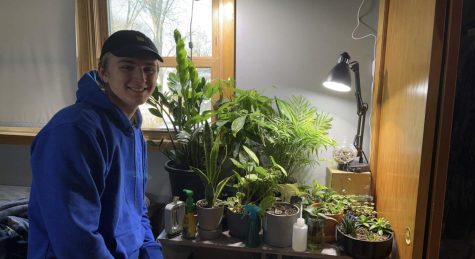 Senior Annie White is also a plant person. She explains how going to Home Depot and other stores that sell any kind of plant is routine for her plant collecting.
"Every time I go to Home Depot, I just can't help but to buy one. Any place I see plants being sold, I get one. I have just accumulated so many [plants]," White said.
Padavic has between 25-30 plants in his room and White has accumulated approximately 35 houseplants over a couple years.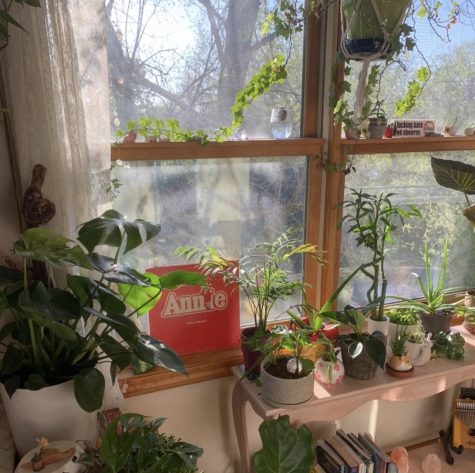 English teacher Zach Kuhn explains how the COVID-19 pandemic helped him grow into a plant person.
"I didn't have anything to take care of, so I needed something kind of around [the house] to keep my mind occupied. So I got one, and I liked having one. I kept it alive, so I got two, and now I have like thirty [plants]," Kuhn said.
Though some people buy plants to make their homes look beautiful, others buy them because they enjoy taking care of something.
"It is just really fun to feel like you are taking care of something and [the plants] are growing and getting bigger," White said.
Padavic feels similarly to White.
"I like having plants and owning them, especially just to see them grow and change over time," Padavic said.
Kuhn doesn't just keep his houseplants in his home, he brings some into his classroom.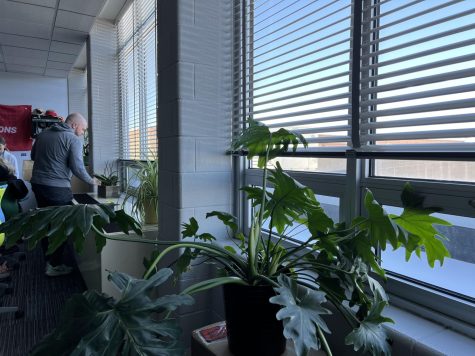 "To be honest I had space for them here, and I didn't know where to put them anymore at home," Kuhn said.
Some plant owners feel as though their obsession with loving plants can turn into an expensive hobby. According to Garden Pals, the average household spends $608.54 per year on gardening goods. Little succulents and cactus can range from about $3 per plant to around $10 or $15. Other types of smaller houseplants, like bamboo plants can be upwards of $30 or $40 for one plant depending on the type of pot it is in and the size of the plant.
"My mom is especially concerned with how much money I spend [on the plants]. My logic is that I can always be spending my money on things like illegal substances, you know? This is something that I can spend money on that is not harmful," Padavic said.
Plant people usually care for houseplants; however, some dabble in tending to outdoor gardens as well.
"
I'm really big about gardening and eating my own food [that I produce]. A lot of my life revolves around plants…It is really cool to be a part of the process where I am producing what I'm eating and being able to make a meal from something I've grown
— White
Many plant people have strong beliefs about sustainability.
"I think it is really important to support farmers markets and locally sourced food. In my environmental science class, we were talking about how important it is to have ethical practices [in the agriculture industry] to help our earth," White said.
Padavic offers people that are thinking about owning or buying their first plant some advice.
"Just get one. Just buy one plant and see what happens. If it dies, that happens; it happens all the time in nature. There is nothing wrong with you if it dies. [If you buy one], it will build your respect for nature. A lot of people that I know that love plants really respect nature and the space around plants," Padavic said.
As for White, she sees her future revolving even more around plants.
"I am really interested in collecting more rare, tropical plants that have different mutations and different variations. When I'm older and when I have my own house, I think it would be cool to have a bigger garden so I can grow a lot more food," White said.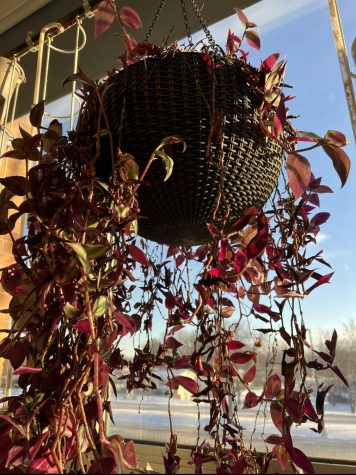 While Home Depot is a popular place to buy plants in the Downers Grove area, here are some other places to purchase unique plants in the Chicago land area: Sprout Home, Farmers Market-Chicago's Garden Center, Gethsemane Garden Center, Plants Delivered Chicago, Vedas Plant Shop & Design, The Growing Place and Wannemakers.
How many plants do you own?
Sorry, there was an error loading this poll.