Alla Vita offers an elevated take on traditional Italian cuisine
Alla Vita, located on W Randolph St in Chicago, is a traditional Italian restaurant that exudes a stylish and elevated atmosphere. Although the restaurant is fairly new, having opened in late 2021, it has already established itself as one of Chicago's top Italian spots and seems to gain popularity each day.
Upon entry you are met with striking decor, including a whimsical ceiling fixture and a sprawling pergola draped with greenery. The effective aesthetic decisions make this establishment not only the perfect place for a delicious bite, but also for Instagram-worthy pictures. Each seat immerses you in a different aspect of Alla Vita's chic and warm ambiance, upping the enjoyment of the overall dining experience.
For appetizers, I ordered the Wood-Fired Meatballs and Fritto Misto. The meatballs were drowned in a perfectly seasoned roasted tomato sauce and covered in parmesan cheese. Although the dish only came with three meatballs, the appetizer was extremely filling and surprisingly versatile, as the leftover tomato sauce made a great dipping sauce for the warm bread brought to the table.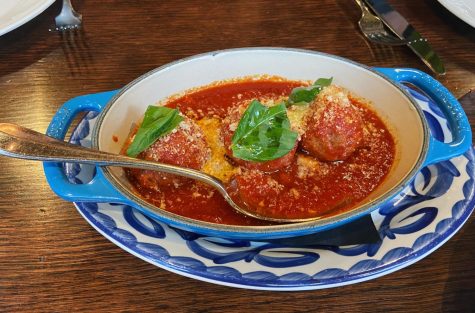 The Fritto Misto consisted of exquisite batter-fried calamari sprinkled with the most delicious seasoning. When dipped in the lemon-cambrian chili aioli, the fried seafood gained a tangy lemon flavor that made the dish all the more enjoyable. With calamari being my favorite appetizer, I have definitely tried my fair share of this plate at multiple restaurants, but I can confidently say that this elevated and flavorful version of calamari is the best I've ever had.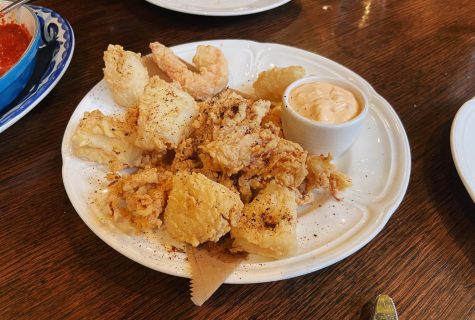 For the entrée, I ordered the Rigatoni. The pasta, coated in the creamiest alla vodka sauce imaginable, was the highlight of my meal. The fresh, cheesy and buttery dish left me reminiscing on my lunch outing the next day and the portion size was extremely satisfying, enough so that I was able to bring some of the pasta home to continue enjoying later.
To finish, I ordered the Raspberry Creme Fraiche gelato. The sweet and creamy dessert was the perfect way to end my meal, as it left behind the most refreshing taste. For only ordering one scoop, the dish left me completely satisfied and the sweet wafer topping blended seamlessly with the bites of gelato.
Throughout the whole meal, the wait staff was exceptional and the service was very fast considering how packed the restaurant was. I definitely recommend Alla Vita to anyone looking for not only delicious food but an enjoyable atmosphere, and I am already planning my next trip back to this classy and stylish Italian restaurant.