Galloping into the arena: A look into a DGS equestrian
Senior Grace Dietrich sits patiently as her trainer pulls her chocolate brown hair into tight, low bun. Now with hair done and horse ready, Dietrich gets on her horse and begins to warm up. She then heads into the ring to compete in the horse show, something she has loved doing for almost a decade.

Dietrich is on the horse show team for her barn, where she competes in a style of riding called saddle seat. The goal of these competitions is to show off the horse's position and form. Most common horses used are the American Saddlebreds and the Morgan Horse.

Grace Dietrich

This year Dietrich has competed in seven competitions, where she has placed in the top three for all of them. She won a national title in the 2021 national championship that she competed in. However, she doesn't consider any of those ribbons her biggest accomplishment.

"[My biggest accomplishment] Probably was this past competition I took a four year old horse into a show who's never been to a show in his entire life, and they chose me to train him and take him. He was so good, I got second [place] with him," Dietrich said.

Sophomore Zara Linneman is friends with Dietrich and rides at the same barn as her.

"When Grace is riding, she looks confident and collected. She knows what she's doing and she does it well. She looks most comfortable and true to herself when she's around the horses. You can tell that she feels comfortable and at home when she's riding or working with the horses. Specifically certain horses, you can just see that she has a connection with them. They make her feel calm and confident, and she makes them feel safe and secure," Linneman said.

Dietrich's mother, Sharon Dietrich, expresses what she is most proud of Grace Dietrich and her riding career.

"I am most proud of the challenges Grace takes. She doesn't always want to ride the easiest or prettiest horse, she wants the toughest horse. She loves every horse, she wants to learn, and she loves the challenge. Throughout her riding career, whether recreationally or competitively, she has continued to improve, and I enjoy watching her succeed," Sharon Dietrich said.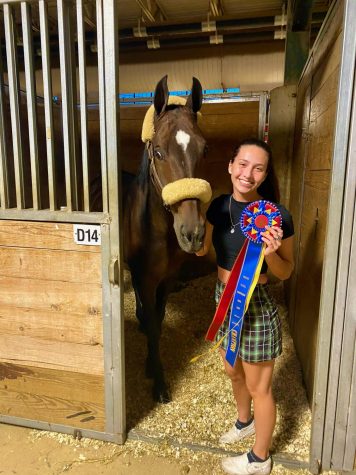 The skills Grace Dietrich has learned comes from many years of experience and having a love for horses since she was a young girl.
"Grace started riding as a little girl. I am guessing about 10 years ago. She started out riding in summer camps for a couple of years and then begged to ride more. That is when she started lessons," Sharon Dietrich said.
Grace Dietrich's interest in riding came from another family member having a love for horses.
"My grandpa… he was obsessed with racing and all of that, so he would always show me the race videos and books so I always wanted to ride. So then I did a summer camp and got into riding," Grace Dietrich said.
Grace Dietrich spends an average of about 30 hours a week at the barn. She works 12 hours, two days a week and spends more time riding.
"Grace not only loves to ride the horses, she loves to be around them and take care of them. For many years, she volunteered her time at the barn just to be around the animals. About three years ago, she started working at the barn cleaning stalls, assisting trainers with the horses, and helping in summer camps etc. She truly loves horses and loves to ride. We never bought her a horse, but that is a dream of hers. I truly hope someday she does have her own horse she can ride. I think she will continue to ride for the rest of her life if she can," Sharon Dietrich said.
Grace Dietrich plans to continue to ride after high school. She has been in contact with a few colleges where she would be able to ride at and compete.
Grace Dietrich has her next competition at the end of the month in Crystal Lake, Illinois.