Moravec flips his way onto the US gymnastics team
After countless flips, spins and crashes, DGS senior Hunter Moravec has landed himself a spot on the 2021 USA trampoline team and will be competing in Baku, Azerbaijan Nov. 20-30.

From an early age, Moravec has been successful in all different gymnastics events; however, he slowly found his passion for trampoline events.

Moravec currently competes in the double mini trampoline event. This is when a competitor runs down the runway jumping onto the angled part of the trampoline, then jumping onto the flat part, flipping through the air to then dismount onto the landing mat. Points are awarded for difficulty and execution and then deducted for lack of control.

"This is my 12th competitive season, but I've been doing it since I was like two," Moravec said.

Elite Sports Complex

Although he feels it wasn't the easiest path to follow, gymnastics and trampolining has always been a part of Moravec's life. He recalled the challenges that he faced in his career.

"Physically, it's just your body, keeping up with all the work and all the training that you have to do; it's just a lot and takes a toll on your body. Mentally, I'd say, just staying on edge, I guess. Like, there's always mental battles that you go through in this sport, whether it's like, oh, you're scared to learn a skill… so it's just like, there's just tons of mental challenges when it comes to this sport," Moravec said.

Continuing to battle and persevere through these challenges is something that mother, Liz Moravec recognized and feels that is a large reason her son is now on Team USA.

"My favorite part of watching Hunter for 16 years has been seeing him get through all the ups and downs and ending up on the Worlds team. Many times he wanted to give up and quit, but he didn't… he knows what it's like to get first place– and also last," Liz Moravec said.

While mental challenges can slowly take a toll on an athlete, competing at the highest level and representing the country is something that Moravec and his family does not take lightly and knows this is something that every athlete dreams of.

"It means a lot to wear those stars and stripes. It's just the sense of accomplishment, I guess. For me, seeing it after all these hard years, it's finally paying off, and there's something that actually shows for it," Moravec said.

Moravec and the rest of the Team USA members just wrapped up training camp in New Jersey on Oct. 16-17. According to Moravec, this was a huge step as the team started to prepare for the November competition in the same building.

"I would probably say [the best part of camp was] obviously spending time with the team, building that team chemistry, and just working with the coaches and cleaning up those passes, getting ready to leave for Baku in a few weeks," Moravec said.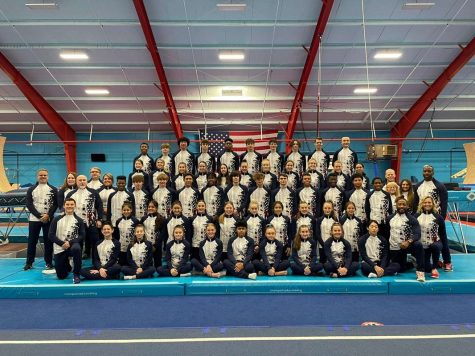 Moravec's coach from Elite Sports Complex Trampoline and Tumbling, D Robinson has been training Moravec from the start and is proud of his accomplishments thus far.
"[This is] a goal I've ingrained in him since this journey began 12 years ago. And to see it come to fruition shows how determination and perseverance pays off. Hunter's presence at camp showed the rest of the team a better glimpse of intensity and consistency in training that is needed to succeed at the elite level," Robinson said.
Moravec's future plans are unclear; however, one thing is certain– he would like to stay close to home to continue training with Robinson.
"[I would only continue in college] if I went to like College of Dupage or like stayed close to home because I don't want to go to a gym that like my coach isn't at because I've been with him since day one, and so I'm finishing my journey with him, since I started with him," Moravec said.
In less than a month's time Moravec will be boarding a flight to travel across the country and compete in the 2021 World Championships in Baku, Azerbaijan looking to bring home a gold medal back to Downers Grove.
Leave a Comment